St. Luke's and Consulate of Mexico commit to ongoing health-focused partnership to serve Spanish-speaking community members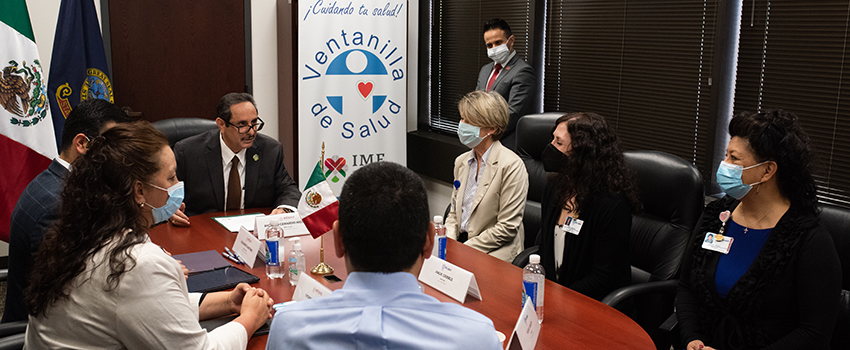 St. Luke's and Consulate of Mexico members meet May 11 in Boise.
A relationship that has benefitted the health of Southern Idaho's Spanish-speaking residents for the past 11 years will continue for years to come with a renewed partnership agreement between the Consulate of Mexico in Boise and St. Luke's Health System. On May 11, representatives with St. Luke's and the Consulate of Mexico met to celebrate the renewed partnership.
Working together, the two organizations have served the Spanish-speaking community members with a priority on Mexican origin population in Idaho through la Ventanilla de Salud (The Health Window). The Health Window program works to improve the health of individuals through free on-site health screenings and vaccinations, referrals to health services, clinics and hospitals as needed, assistance enrolling in community programs and information and education on health topics and preventive care. A mobile health window program takes referral services to health fairs and community events. Services through both the on-site and mobile health windows is free and available to everyone. In 2021, the program served 7,427 individuals, and already in 2022, has served 2,113 people.
"With the Hispanic population projected to comprise 14 percent* of all Idahoans by 2025, we know that the number of Spanish-speakers is growing rapidly," said Dr. Alejandro Necochea, Physician Advisor for St. Luke's Community Health and Engagement. "Programs and services like those provided through the Health Windows in Boise and Hailey are more important than ever. We are here to serve both new community members and those who've called Idaho home for some time to connect them to programs, services and care that can help them to live healthier and more vibrant lives," added Necochea.
"With the continuation of this great partnership, we look forward to providing quality support and resources like the Treasure Valley bilingual mental health resource guide created and issued in 2021. It's been an impactful guide for Mexicans living in Idaho and this partnership will allow us to continue with this type of great work in our communities," said Ricardo Gerardo Higuera, Head Consul.
The Ventanilla de Salud program started in 2003 in the Consulates of Mexico in San Diego and Los Angeles. It is an initiative that receives funding from Mexico´s Ministries of Health and Foreign Relations. The program is currently present in the 50 Consulates of Mexico in the United States.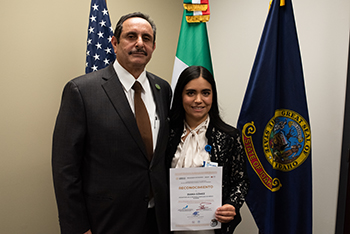 The most common resource la Ventanilla de Salud assists with includes health education on topics such as cancer prevention, diabetes, heart disease as well as COVID-19 prevention measures and vaccine.
The partnership program also helps guide community members in need of a medical home to health care providers. Outreach around mammogram screenings and available programs that can help curb or remove the cost are also among services offered. The Ventanilla de Salud is proud to offer culturally sensible services to the people that visit the Consular facilities, and is currently offering COVID vaccines and education up to 4 days a week with the valuable help of other health providers in the state.
During the signing ceremony, the Mexican consul, on behalf of the Mexican government's secretary of foreign relations and secretary of health, presented a special award to Diana Gomez Romero, a bilingual outreach coordinator for St. Luke's Community Health team. According to government officials, the recognition through the Instituto de los Mexicanos en el Exterior (Mexicans Abroad Institute) honored Gomez Romero's support and help to the Mexican community's health during the COVID-19 pandemic. Gomez Romero has played an integral role in various outreach efforts to support community health.
"Her work was of much value," officials said.
Additional information about the health window
Members of the public can access information and resources through la Ventanilla de Salud by phone or by coming into the Consulate of Mexico building, located at 701 Morrison Knudsen Plaza Dr., Boise.
Learn more about la Ventanilla de Salud at St. Luke's - Ventanilla de Salud (stlukesonline.org) or call 208-954-8856 in Boise and 208-727-8722 in Hailey.
La Ventanilla de Salud does not offer medical consultations or medication prescriptions, nor is it a clinic health center, hospital, pharmacy or medical lab. The Health Window is managed by a highly trained bilingual outreach coordinator from the St. Luke's community health team; however, it is separate from St. Luke's Cultural and Language Services Department, which specifically provides interpreter services to St. Luke's patients.