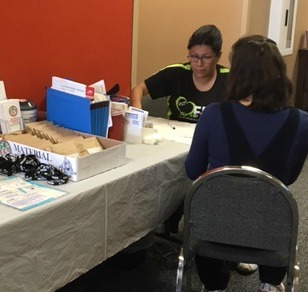 A partnership between St. Luke's and the Mexican Consulate is improving access to health services for people who would otherwise not have medical care.
The Health Window program is in place at 50 Mexican Consulate locations throughout the United States. In Boise, it receives support from St. Luke's and was the recipient of a $20,000 grant from the Community Health Improvement Fund (CHIF) for 2016-2017.
Community partnerships are a key component to the program's success, according to Monica Flores, Health Window program coordinator. In addition to St. Luke's, Health Window partners with the Idaho Lions Foundation, Idaho State University and Family Medicine Residency of Idaho to offer free screenings involving vision, blood pressure, glucose, cholesterol and BMI.
The program works with St. Luke's Mountain States Tumor Institute for education outreach, with a focus on colorectal cancer prevention because it is a prevalent form of cancer in the Hispanic community, according to Flores.
People from Mexico often go to the Mexican Consulate to get an identification card or a passport. Without any form of identification, people are unable to receive many vital services in Idaho.
"If you go to a doctor you need an ID. If you give birth you need an ID," Flores said. "You can't cash a paycheck without an ID."
Mexicans living in Idaho face many barriers to receiving care. They might not have identification. They might not have the money to afford care. Even though resources are available for low-income or non-English speaking people, many folks aren't aware of those resources or where to even get started. Flores helps eliminate those barriers by connecting people to the care they need.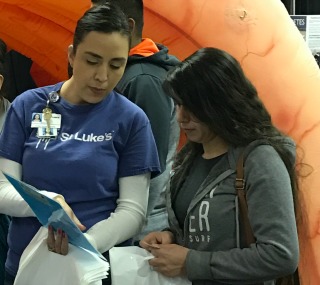 Free screenings are offered through the Health Window at the Mexican Consulate every Friday. Flores said the number of people they serve varies each week, ranging from 10 to 30 people. The interactions cover "a little bit of everything," depending on each person's situation. Some need help obtaining insurance, and Flores shows them where they can go to learn more. When a health screening reveals high glucose levels, Flores gives them information on healthier cooking options.
The service has been offered in Boise since 2010, but recently it has expanded to offer more outreach. Sometimes people can't come to the consulate, so it is important to go where they are gathering. Flores and others travel to health fairs, go to parks to host physical education activities for kids and families and provide health screenings at churches. The service is also offered in Wood River through a similar partnership.
"We have to go into the community," Flores said.