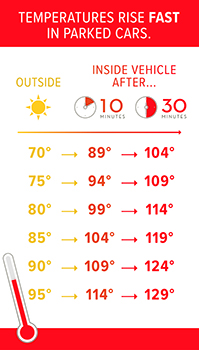 As the temperatures warm up, Treasure Valley agencies and businesses, including St. Luke's Children's, are teaming up for the second annual Look Before You Lock campaign to remind the community of the dangers of leaving kids, pets and vulnerable loved ones inside cars
In 2019, more than 50 children died in the U.S. from heatstroke after being left in a car. With outside temperatures regularly reaching the 90s and higher during summer months, Idaho is not exempt from this danger.
From April 1 to October 1, 2019, Ada County Dispatch received 289 calls for service concerning a child, pet or non-mobile adult parked in a vehicle during warm times of the day.
"This year is a little different with the novel coronavirus disease (COVID-19)," said Ed Fritz with the Boise Police crime prevention unit.
"We are out of our normal routines and we are looking for ways to limit our exposure. Cars may seem like a safe place to leave children, pets and vulnerable individuals while you go into a store but please don't. Even in mild temperatures, vehicles can quickly become dangerously hot."
In this video, a Boise Police Department officer uses an infrared, temperature-reading device to demonstrate how quickly the inside of a vehicle can reach dangerous temperatures.
"We have to remember that a child's core temperature can increase three-to-five-times faster than an adult," said St. Luke's Children's Medical Director and Emergency Physician Dr. Kenny Bramwell.
"That rapid increase in temperature is so dangerous because just in a very short time it can cause permanent brain or neurological injury, and even death."
Most hot-car related deaths are accidental. In more than half of child-related deaths, the caregiver simply forgot the child was in the car and in more than a quarter of the cases, the child accessed the car on their own.
Businesses in Ada and Canyon counties will share flyers and large posters during the campaign and billboards will visible throughout the valley with the Look Before You Lock message.
Download a flyer to display at your business or print a tag to hang on your vehicle review mirror—you can even color your own!
Campaign partners include Pioneer Credit Union, Meridian Police Department, Ada County Sheriff's Office, Caldwell Police Department, Nampa Police Department, Albertsons, St. Luke's Children's, Idaho Transportation District, AAA of Idaho and the Idaho Humane Society.