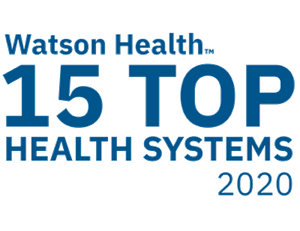 People in Idaho and Eastern Oregon have access to some of the best health care in the nation, according to IBM Watson Health which again has named St. Luke's one of the 15 Top Health Systems in the country – and this year, added Saint Alphonsus Health System to the list. No other city in the country has two health systems on the list, making care here unprecedented in quality in the country, according to the study.
This is the seventh straight year Idaho-based, not-for-profit St. Luke's has received the national recognition. To win back-to-back times is a rare distinction, and seven in a row is nearly unheard-of. Not only does IBM Watson Health have stringent standards, but St. Luke's is a relatively young health system compared with other organizations named on the Top 15 list, including Baylor Scott & White Health, the Kettering Health Network and Asante.
St. Luke's celebrates Saint Alphonsus colleagues and other health systems on the list and is honored by the acknowledgment, recognizing that the award comes as hospitals, health systems and caregivers nationally and globally respond to the needs of neighbors, friends and colleagues during the global COVID-19 pandemic.
"St. Luke's dedicated and skilled staff and providers are committed to providing the highest quality and safest care possible," said Dr. Bart Hill, St. Luke's vice president and chief quality officer.
"They truly are heroes who come to work every day, now in the face of increased personal risk, because that is who they are.
"They set high standards in their daily work; being a safety net for our communities and a national leader in quality are results of that commitment to excellence."
The 2020 15 Top Health Systems report evaluated 332 U.S. health systems and 2,492 hospitals that are members of those health systems. Using specific clinical and administrative performance metrics, IBM Watson Health concentrated on factors like patient outcomes, patient satisfaction, length of hospital stays, costs per episode of care, complications and lives saved.
The top-performing health systems:
Had fewer patient complications and ultimately saved more lives.
Provided faster emergency care.
Sent patients home sooner.
Had lower patient readmission rates.
Scored higher on patient ratings of hospital experiences.
IBM Watson Health's award is different from other rankings because the organization conducts its work independently. Researchers rely on objective, independent studies and public data. St. Luke's did not apply for consideration, and winners do not pay to market their recognition.
Dr. Hill says recognition like this validates that St. Luke's is focused on meeting the organization's mission: To improve the health of people in the communities we serve.
"For many years, I have appreciated St. Luke's willingness to evolve, change and continually improve. Responding to this pandemic has accelerated change at an exponential rate, and we are seeing our true capacity for change when faced with a challenge of this magnitude," Dr. Hill said.
"Our leadership and board haven't settled and have continually challenged us to not accept 'good enough' and to find ways to become safer and to strive for zero preventable harm," he said. "Now we are seeing that response focused on the challenge of serving our communities' greatest needs."
St. Luke's team members have put in a concerted effort across hospitals and clinics to ensure a standardized approach so patients get the best care no matter which St. Luke's door they open.
"To every member of the St. Luke's team, you have each contributed to us being a national leader in quality for seven consecutive years and we owe you our appreciation.
"You have helped prepare us for this moment. And to each of you responding to this pandemic today, we owe you our deepest gratitude for stepping into the roles of heroes," Dr. Hill said.
The value of the 15 Top Health Systems study is that it provides hospital administrators with crucial, evidence-based insights into the effectiveness of their leadership teams, organizational performance and management alignment. This research allows health systems to understand how they compare to peers and national benchmarks in terms of quality of care, operations and patient satisfaction.
The public data that IBM Watson Health evaluated includes Medicare cost reports, Medicare Provider Analysis and Review (MEDPAR) data, and core measures and patient satisfaction data from the Centers for Medicare & Medicaid Services Hospital Compare website. Find more information on this study and other 100 Top Hospitals research.