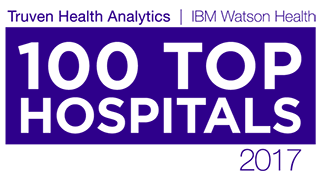 St. Luke's Boise and St. Luke's Meridian have been named among the nation's 100 Top Hospitals® by Truven Health Analytics®, part of the IBM Watson Health™ business.
Truven Health evaluates clinical and operational performance in 11 areas, addressing inpatient mortality, 30-day mortality rate, complications, core measures, 30-day risk-adjusted readmission rate, severity-adjusted average length of stay, mean emergency room throughput, inpatient expense per discharge, Medicare spend per beneficiary, adjusted operating profit margin and Hospital Consumer Assessment of Healthcare Providers and Systems (HCAHPS) scores (patient rating of overall hospital performance).
The study has been conducted annually since 1993. This is the ninth time St. Luke's has been honored.
St. Luke's has been on a journey toward excellence in safety and quality, according to Dr. Bart Hill, the organization's chief quality officer.
"Recognitions like this one from Truven Health Analytics® and IBM Watson Health™ are validation that St. Luke's is performing as the national leader we set a vision to become," he said.
"But the real value of an honor like this is not in the recognition – it's what the achievement means to the patients we care for every day.
"As St. Luke's transforms from volume-based care to value-based care, our foundation of early improvement efforts like Project Zero to reduce orthopedic infections, standardizing approaches in colon surgery, stroke, perinatal, cardiac and sepsis care only become more critical," he said. "We know when we provide the highest level of quality and safe care, we avoid unnecessary complications, prevent avoidable deaths, and ultimately, reduce the overall cost of care."
Based on the results of this year's study, if all Medicare inpatients received the same level of care as those treated in the award-winning facilities:
Nearly 89,000 additional lives could be saved.
More than 61,000 additional patients could be complication-free.
More than $5.6 billion in inpatient costs could be saved.
The average patient stay would decrease by half a day.
More than 300,000 fewer discharged patients would be readmitted within 30 days.
Patients would spend nine minutes less in hospital emergency departments per visit.
"The hospital industry's ongoing transition from fee-for-service to value-based care appears to be bearing some positive results for both patients and payers," said Jean Chenoweth, senior vice president at Truven Health Analytics®.
"The magnitude of improvement we've observed over the last five years is greater than any other five-year period we've tracked. On top of that, this year's winners have reached new highs in performance in comparison to peers across the country, which suggests that improvement in value from hospitals is likely to continue."