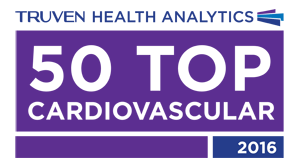 St. Luke's Boise and Meridian achieved Top 50 Cardiovascular Hospital recognition for the 10th year, awarded by Truven Health Analytics™.* Compared to more than 1,000 U.S. hospitals, Top 50 Hospitals like St. Luke's have higher survival rates, fewer patient complications, shorter average lengths of stay and lower total costs per patient.
Truven research shows that if all cardiovascular providers performed at the level of this year's Top 50 hospitals:
Nearly 8,000 additional lives could be saved.
Nearly 3,500 more heart patients could be complication-free.
More than $1.3 billion could be saved.
This analysis was based on Medicare patients; if the same standards were applied to all hospital patients, the impact would be even greater.

"St. Luke's has achieved highly successful outcomes for our patients due to the skill of our cardiovascular teams and our collaboration with local and regional emergency responders," said Dr. Marshall Priest, Executive Medical Director of St. Luke's Heart.
According to Truven data, the Top 50 Cardiovascular Hospitals had:
Significantly higher inpatient survival than non-winning cardiovascular hospitals (20 to 33 percent higher)
Fewer patients with complications (8 to 11 percent fewer)
Higher 30-day survival rates for acute myocardial infarction (heart attack) and heart failure patients (0.6 to 0.7 percentage points higher)
Lower readmissions rates for heart attack and heart failure patients (1.05 percentage points lower)
Better Centers for Medicare & Medicaid Services Core Measures scores (0.3 percentage points higher)
One-half to one day lower average lengths of stay
$1,200 to $6,100 less in total costs per patient case (The median benchmark hospital spent approximately $6,100 less per bypass surgery patient and more than $1,200 less per admitted heart failure patient.)
The Truven Health 50 Top Cardiovascular Hospitals study is an annual quantitative study based on publicly available data and analysis of patient outcomes, operational efficiencies and financial metrics. Hospitals don't apply for the designation, nor do they pay to market it.
*For the first four years, Truven recognized the Top 100 Cardiovascular Hospitals.