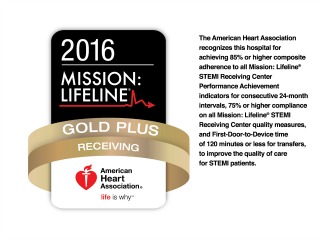 St. Luke's Boise and Meridian Medical Centers recently earned the Mission: Lifeline® Receiving Center Gold Plus Quality Achievement Award from the American Heart Association (AHA). The award recognizes St. Luke's for implementing specific quality improvement measures outlined by the AHA for the treatment of patients who suffer severe heart attacks, known as STEMIs.
Every minute is crucial in saving heart function in the case of STEMI, or ST-segment elevation myocardial infarction. A STEMI is caused by a complete blockage of blood flow to the heart. The heart muscle begins to die within minutes, and requires immediate treatment to unblock the artery and restore blood flow.
"In 2015, nearly 90 percent of our STEMI patients had their artery opened within 60 minutes of arrival at St. Luke's," said Dr. Nathan Green, director of St. Luke's STEMI program. "When our EMS partners notify us from the field of an incoming heart attack, we have had door-to-artery times as short as 11 minutes after arrival."
To achieve the best results and most rapid treatment for patients, St. Luke's works with a region-wide team that includes local doctors, dispatchers, emergency medical services (EMS), air transport teams, and hospital staff who continually evaluate their processes to get heart attack patients to treatment as quickly as possible. Every minute saved adds up to the best possible result for the patient.
For more information about heart and vascular programs at St. Luke's, visit stlukesonline.org/heart.
For information on the AHA's Mission: Lifeline program, visit heart.org.