St. Luke's athletic trainers bring international experience with U.S. soccer teams to Idaho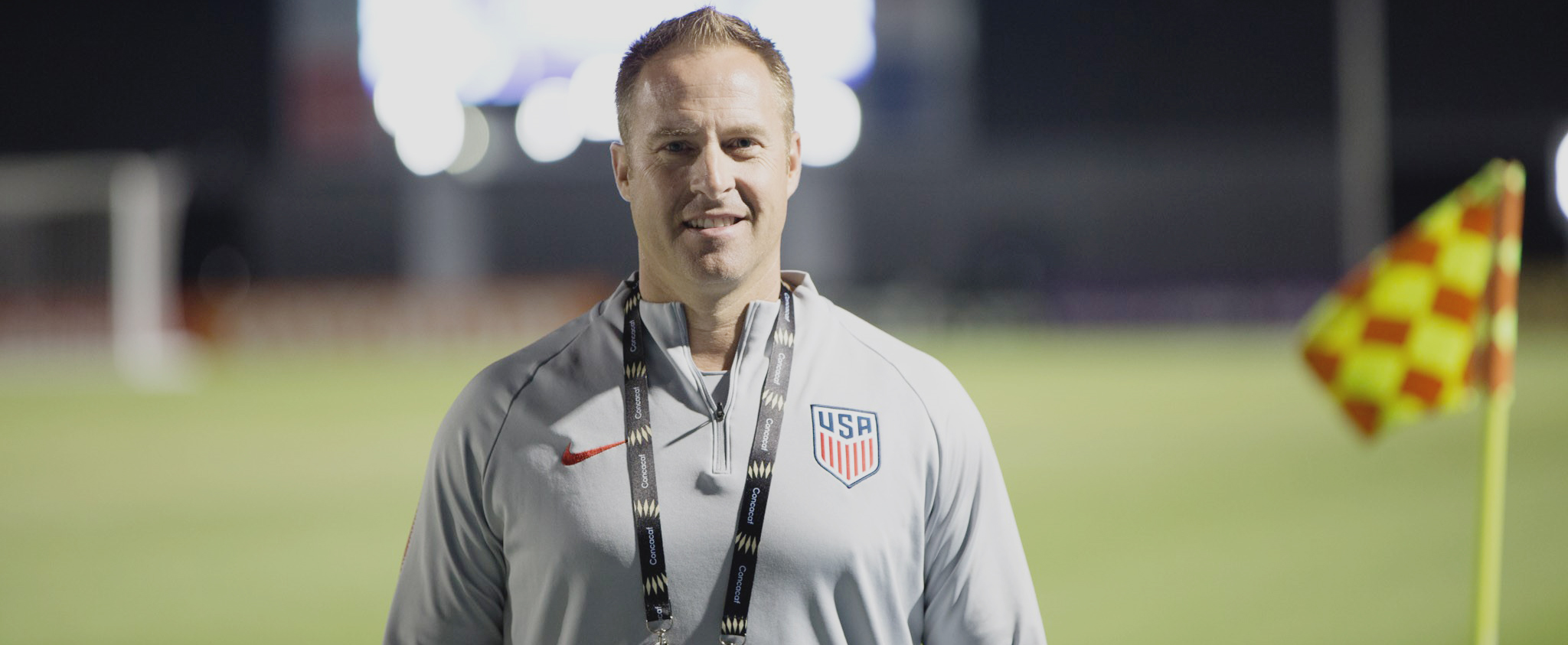 Kip Dribnak, St. Luke's director of outreach and athletic training services, has served as an athletic trainer for various United States national soccer teams for nearly a decade, traveling across the world.
By Dave Southorn, News and Community
When Kip Dribnak recently had to renew his passport, he couldn't help but thumb through it and see the stamps he'd accumulated over the last decade.
Turkey. Poland. Brazil. Spain. Jamaica. South Korea. Japan. Slovakia. Costa Rica.
In all, there were more than 20 countries Dribnak had visited. Not bad for St. Luke's director of outreach and athletic training services.
Dribnak didn't fancy himself a globe-trotter until he first was asked to serve as an athletic trainer for the United States U-20 men's national team. Since, he's joined the team and other national soccer teams at tournaments all over the world.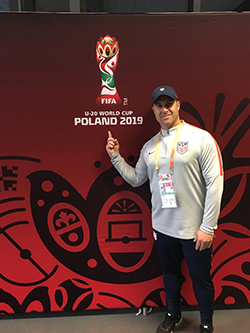 "I had no idea I'd ever experience anything like this in my job," Dribnak said. "It was pretty great to look through that passport and just think 'it's been a really cool ride.'"
While the top-level United States men's and women's teams have full-time trainers and physicians, the "youth" national teams utilize a pool system. Dribnak said being able to have St. Luke's connected with national teams "adds credibility to our group."
In fact, he's been so respected at the national level that Team USA has asked Dribnak to recommend fellow St. Luke's employees for the pool. He said about 8-10 athletic trainers and five physicians from St. Luke's have been called upon to work with the various national teams.
One of those athletic trainers is Ian Sandercock, who played youth soccer in Boise and collegiately in Washington.
"In a way, it's a dream come true," said Sandercock, who recently worked with the U-15 boys in San Diego and has traveled internationally to Spain and Australia. "Your goal is to make the top level, playing for your nation. Obviously, I didn't make it as a player, but it's awesome to make it on a different path."
In addition to their athletic training responsibilities, when working with teams during the last two years, they also have handled COVID-19 testing.
It's been quite an experience the last decade for Dribnak, who has seen the department grow from four athletic trainers when he started, to approximately 50 full- and part-timers. St. Luke's is Idaho's largest employer of athletic trainers, stretching across the system's footprint in high schools, colleges, pro sports, rodeo and community events.
"Being able to have my hands all over it, as far as growing it and making athletic training a relevant profession and business, that's been special," Dribnak said.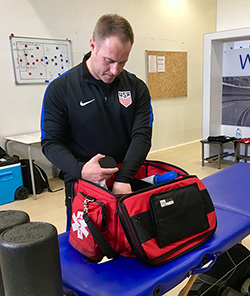 Kip Dribnak prepares before a match with the U-20 national team in Spain.
One important part of having athletic trainers work with high-caliber athletes and teams on the national stage is that it also can benefit those athletes and teams here locally.

"It's an honor to work with players at that level," Dribnak said. "A major part of why we do it is professional development … to be a part of the national team, you want to elevate the care provided. Then you're able to bring that knowledge and those skills here, to the Treasure Valley, that's the most rewarding part, applying it here at home."
Sandercock, who works with the expansive Boise Timbers Thorns youth club soccer organization, said he's been able to utilize injury prevention, treatment and SafeSport (abuse prevention) aspects that he's picked up from the national team.
"It translates directly," he said. "Those techniques help, and even something like telling a kid you're treating his injury the exact same way as someone on the national team, it puts them in the right mindset."
Sandercock noted that Dribnak "has been huge in making me a better trainer" here in Idaho and with the opportunities presented to work with teams elsewhere. Both are hoping to spend some time this summer with national teams at World Cup qualifiers.
"You feel so much pride being a part of that crest, it's a great feeling knowing where you've come from, standing on those sidelines, the national anthem playing – it makes the hairs on your neck stand up," Dribnak said.