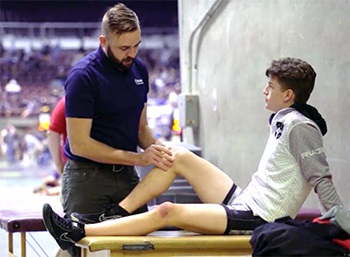 The athletic training outreach program at St. Luke's Sports Medicine is one of the premier outreach programs in Idaho and the Pacific northwest. Our team supports a wide range of athletes year round throughout southwest Idaho and eastern Oregon, including professional, collegiate, and high school individuals and teams, as well as youth and club sports organizations, competitive rodeos, and community events.
We offer on-site care and education including injury prevention techniques; immediate triage, first aid and wound care for injuries; taping; bracing; and concussion management. We also serve as a health resource for athletes, their parents, and partner organizations and collaborate with local and regional organizations to help identify injury trends and variables that can be changed to make sports safer for athletes. Our team is extremely passionate about keeping kids safe and works diligently to provide high-quality care to local athletes.
High School and College Support
St. Luke's Sports Medicine provides full-time athletic trainers (ATs) for many local high schools through contracted agreements with each school. These contracts provide sideline coverage for all home games as well as on-site athletic training services during school days, including acute injury evaluations, preventive treatments, concussion evaluation and management, rehabilitation planning, and expedited clinical appointments or imaging. Our ATs work closely with St. Luke's Sports Medicine physicians and physical therapists, offering a team approach to treating local student athletes. We also offer sports physical clinics at the schools and baseline testing for concussion management.
While our program began in the Treasure Valley and surrounding area, we've recently expanded to the Magic Valley, subsidizing the cost of athletic training services at several large high schools in Twin Falls county and at the College of Southern Idaho. We also provide in-kind services to many smaller schools throughout the area. Most communities in the Magic Valley are classified as medically underserved, and our certified athletic trainers are often the only allied healthcare professionals available nearby for student athletes.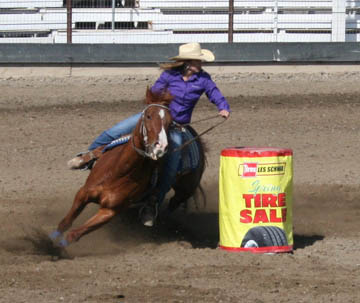 Rural Outreach
St. Luke's Sports Medicine has a team of certified athletic trainers dedicated to rural outreach, supporting schools and rodeos in our region that don't typically have access to or the financial resources to support on-site athletic training services. This focus on smaller communities has extended our reach throughout southwest Idaho and eastern Oregon.
Contact Us
For more information about the athletic training outreach program at St. Luke's Sports Medicine, please call (208) 706-9269.