Orthopedic patients in McCall will have better access to X-rays as they prepare for and recover from surgery.
The St. Luke's McCall orthopedic clinic, located in the Allen-Nokes Center, has a new X-ray machine to better serve patients. A conference room was remodeled to accommodate the new machine.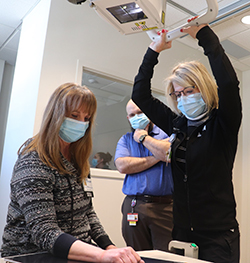 "This improves efficiency and convenience in performing orthopedic patient evaluations and promotes patient safety, especially in the winter, by avoiding requiring patients having to walk across the street to receive their X-ray imaging at the hospital," Irvine said. "It will be a game-changer."
Orthopedic X-rays account for approximately 25% of all X-rays currently performed at St. Luke's McCall.
"Improving access to care is one of St. Luke's objectives," said St. Luke's McCall Chief Operating and Nursing Officer Amber Green.
The total cost of the project is more than $500,000, which included the purchase and installation of new equipment and remodeling costs. Radiographic technician Jacob Fletcher was hired to support the orthopedic clinic and the hospital. The new position's wages are included in the total cost of funding. All other radiographic technicians will continue to help support the orthopedic clinic.
The McCall Memorial Hospital District approved St. Luke's FY2021 funding request of $400,000 to support this project.
"We're grateful to the McCall Memorial Hospital District for funding the project to better serve the community," Green said.