Magic Valley SORT ready to take on world's best in international rope rescue competition
By Michelle Bartlome, News and Community
Their amazing rescues are renowned in Idaho and across the West. This month, a St. Luke's owned and operated paramedics team based in Twin Falls will test their skills against the world's best.
In the last year, the Magic Valley Paramedics Special Operations Rescue Team (SORT) has rescued a couple whose truck fell over the edge and dangled above the Malad Gorge, base jumpers hanging on by their parachutes to the Snake River Canyon wall and an injured ice climber near Shoshone Falls.
"Last year, we did 22 rope rescues," said SORT leader Chad Smith. "The majority were in the (Magic) Valley, but we also did an airplane crash in the Frank Church Wilderness, in the Malad Gorge and we've been out of the area fair amount, too."
The team normally averages 15 rescues each year. While all rescues are different, their rescue efforts follow a similar plan of action.


"You go in there and you have to come up with a plan of where the anchors are going to go, how the ropes are going to lay," said SORT equipment manager Brian Stone. "Just to see all that playthrough and workout and everybody comes out safe at the end, that's awesome. It's a great accomplishment."
As the team has grown and the rescues continue to be challenging, they are receiving more exposure for their hard work. So much so, that the team has been invited to an international rope rescue competition – GRIMP North America, held March 24-26 in Los Angeles on the retired battleship USS Iowa.
The competition brings teams from the world together not just to compete in difficult mock rescue scenarios, but also to learn new techniques and talk about their experiences.
"To see us grow over the years to the point where we're doing these huge rescues like the Malad Gorge and Salmon Dam, and then we're responding with Air St. Luke's into other parts of the state where there aren't teams now," said Smith, "To the point now, who would have ever thought we were going to an international rope rescue competition?"
Said Stone: "We're one of 12 teams from all over the world. It's pretty cool coming small-town Idaho, right? Pretty awesome to get to go do that. We feel like we're pretty good, so we'll see compared to the rest of the world."
To make sure they are as prepared as they can be for the competition, the team has recently been training every Monday at Gemstone Climbing in Twin Falls and along the Snake River Canyon, weather permitting.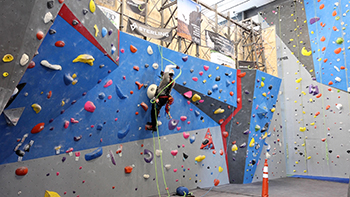 "We're training in a broad sense," Smith said. "We know it'll contain confined space, high angle rope rescue, and rope access so we're training on all those aspects. We watched a lot of videos from previous competitions over the years to see kind of what they do, but it seems every competition has been different too, so we really don't have a clue and we're just trying to train and be well rounded."
The team members are working to be in top notch physical shape for the competition – some are even implementing a specific diet.
"It's really cool. I'm so proud of our team to have grown that far to get to this point to get selected, but now I'm nervous of hoping not only we're going to get to go compete, but hopefully we can place in the top three," Smith said.
The SORT team has 18 members. Seven of them are attending the competition so the others can stay for any potential rescue needs that may arise.
The SORT members competing are Smith, Stone, Isaac Baker, Theron Thomas, Adam Enock, Gerald Dillman and Stan Flint. The St. Luke's Magic Valley Health Foundation helped cover the cost of their travel to the competition.
The other SORT team members who will remain in Idaho to attend to any emergencies are Bill Gully, Barrett Craig, Chad Kohen, Josh Russell, Kayla Cole, Aaron Rodriguez, Tanaya Smith, Tony Clue, James Pennington, Helaman Bingham and Jared Nebeker.
Best of luck to the Magic Valley Paramedics Special Operations Team and thanks for putting the Magic Valley on the international map with a stellar rope rescue team!