It looked like a scene straight out of an action movie.
But this was real, with lives literally hanging in the balance.
A three-ton pickup truck, with a couple and their two dogs inside, dangled precariously Monday from a bridge 100 feet above the Malad Gorge in southern Idaho. A safety chain connected to a camp trailer was all that kept it from plummeting down.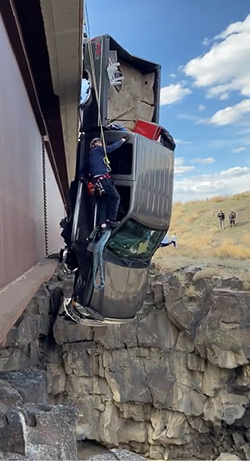 Emergency responders, including the Magic Valley Paramedics Special Operations Rescue Team (SORT) and Air St. Luke's, to the rescue!
Three Magic Valley Paramedics SORT members were flown to the scene by Air St. Luke's. They rappelled down to the truck, and all inside were rescued.

"I am just so proud of our team. It shows what all agencies … can do working together," said Chad Smith, field supervisor for SORT and a flight paramedic for Air St. Luke's. "It was a team effort."

A trooper and deputy, on the scene just as the accident unfolded, enlisted the help of a semi-truck driver who provided chains that gave additional support to the truck before the rescue team arrived, according to Idaho State Police.

Magic Valley Paramedics SORT has responded to six rescues since December, three utilizing Air St. Luke's. Smith said Monday's rescue was "one of the more challenging ones we have done."

Other responders included Gooding County Sheriff's deputies, Gooding County EMS, Gooding Fire Department, Gooding Rural Fire Department, Jerome City Fire Department, Idaho Fish & Game and Jerome County Sheriff's Office.

"This was a tremendous team effort that took a quick response and really showed the dedication and training of our community of first responders," said Capt. David Neth of the Idaho State Police District 4 in Jerome.

The driver, a 67-year-old man from Garden City, and the passenger, a 64-year-old woman from Garden City, were both wearing seat belts.
They were then transported and treated for non-life threatening injuries. The dogs were taken to a family member in the Magic Valley.

"Having a positive outcome reminds us why we do it," Smith said. "We do it fast, safe and efficiently. These individuals get to go home."
For more information on the Magic Valley Paramedics SORT, click here.
Check out video from the dramatic rescue below.