Community members can help babies in need at St. Luke's by donating unused breast milk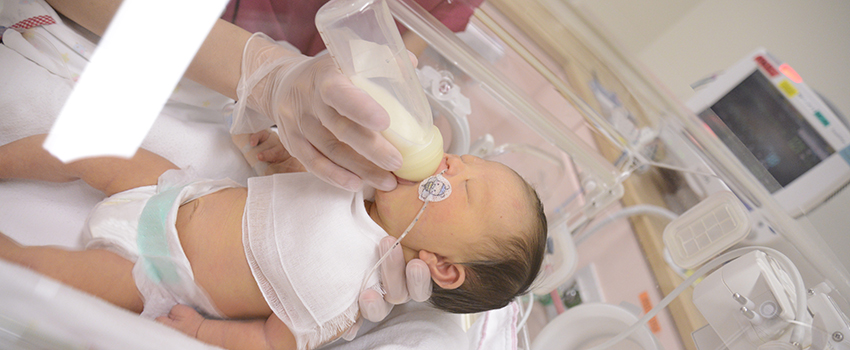 By Dave Southorn, News and Community
Donating life-changing biological material is vital to a hospital, be it blood, plasma, bone marrow and the sort.
But often, the amount of times a person can donate or what is specifically needed can limit the pool.
However, there is one way that community members can help out the smallest and most fragile St. Luke's patients.
St. Luke's is a donation center for breast milk, which is used in the neonatal intensive care unit (NICU), pediatric intensive care unit (PICU), pediatrics and the newborn nursery.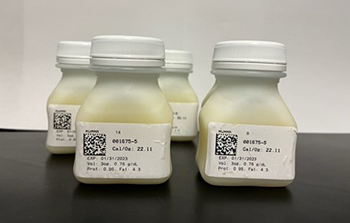 Donated breast milk ready for use at St. Luke's.
"What I love about it is the community involvement, how it's a full circle, beautiful thing," said Lauren Bailey, donor milk system lead at St. Luke's Children's. "(Lactating individuals) that have extra can help out other babies; it's pretty special."
Community members can contact St. Luke's to drop off unused breast milk, which is then sent to milk banks in Colorado and Utah, where it is tested, screened and pasteurized. Most of it returns right back to be used at St. Luke's, though some could end up helping babies in other communities in the region.
Since the program's introduction in 2013, St. Luke's has collected more than 800 gallons of donated breast milk. Last year alone, more than 12,000 ounces were donated. Bailey, who started at St. Luke's in the NICU nutrition room, said approximately 75% of NICU babies receive banked donor milk at least once during admission.
While some babies require specialized nutrition, the recent formula shortage across the country has put more emphasis on breast milk feeding for babies who can handle it.
"Some kids need specialty and can't take breast milk, but if there's a baby on standard calories, and can take either, we can help with more breast milk available," Bailey said. "Maybe (a new parent) can't produce and they want that option. There are ways we can have them be able to have it at home, too."
Programs like the one at St. Luke's require help from the community, and locally, one such donor is Melissa Thompson, an art teacher at Boise High.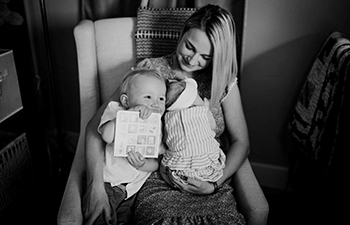 In the summer of 2020, when she gave birth to her son, she found that she tended to overproduce. She wasn't sure what to do with the extra milk, so she got in touch with her OB-GYN, Dr. Timothy West, who suggested donating it.
"I'm a wuss with needles, so being able to donate something back to help out … it was a no-brainer for me. It was something very easy to do," Thompson said. "I can't imagine what they go through in the NICU, so I'm glad to help out in any way."
Thompson, who had a daughter this spring, donates monthly. Even while on a recent trip to Mexico, knowing she couldn't take her extra amount with her, she was able to connect and donate there.
"There's definitely a need," Thompson said. "It does feel nice to be able to give back, help out. It makes it worthwhile sitting hooked up to the pump a few times a day, kind of makes my attitude toward the whole process a little better."
For more information, please call:
Boise: (208) 381-7644
Twin Falls: (208) 814-6455
Meridian: (208) 706-3119