St. Luke's, along with so many other health systems across the globe, pulled out all the stops during the COVID-19 pandemic to ensure that care could continue.
In St. Luke's case, the organization worked with local businesses, scoured for appropriate supplies from a variety of vendors and stretched the needed equipment and items with safety and quality in mind.
And while it all held together, it's not a position the organization wants to be in again – which is why leaders and planners are taking a significant step to make sure it won't.
Plans are in the works for a vast new consolidated service center, a St. Luke's-owned distribution warehouse centrally located in south Boise near the freeway and the airport, which will allow the organization to control the acquisition and distribution of health care supplies.
St. Luke's planners had long anticipated the need for improved and consolidated warehouse space and had begun looking into the possibility as far back as 2017; the pandemic only underscored the importance for an organization of St.
Luke's size to be able to better control its destiny.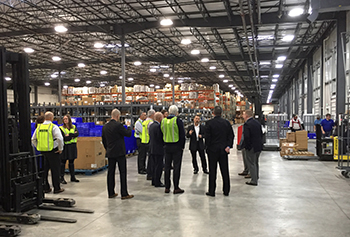 Along with supply chain leaders at the location will be pharmacy team members and other non-clinical services, all working toward more efficient ordering and fulfillment processes.
Envisioned is a 270,000-square-foot space, with truck bays for distribution among St. Luke's multiple hospitals, clinics and other locations, a mail/central fill operation to increase the capacity of outpatient pharmacies, centralized compounding, capacity for home infusion and offices, to be operational in mid-2024 – construction, as with everything else over the past two years, is contingent upon the twists and turns of the pandemic – and in this case, supplies of steel and other construction materials.
Dozens of jobs in such areas as sourcing, contract management, planning and inventory are likely to be created as functions come on line and consolidation and buildout occur.
Among the benefits to owning one combined, centralized warehouse nearer the middle of the organization's geographic footprint:
Greater control of the supply chain and improved visibility to inventory.
Improved planning and forecasting.
Decreased reliance on third-party vendors and distributors.
Increased ordering and fulfillment efficiencies.
Decreased risk and decreases in unnecessary variation introduced with supply chain ruptures.
Additional space and flexibility to maintain buffer stock. At one point during the early stages of the pandemic, St. Luke's was assured by a vendor that there was 90 days' supply of a specific product when the reality is that the vendor believed they could lay hands on those supplies if needed. They were not actually in hand.
The addition of ancillary services to leverage the logistics network made possible through the location.
Millions of dollars in savings through reduced outsourcing related to many of these activities.
More effective response to external factors, and opportunities to standardize supplies, pharmaceuticals, suppliers and services.
The center, one of fewer than 100 across the country, will bolster the organization – and by extension, health care for the region – against the types of supply chain disruptions caused by COVID-19 and comparable future crises by reducing reliance on distributors, enhancing St. Luke's ability to store needed supplies, improving visibility into available stock on hand, and enabling better control of supply quantities to distribute.
The logic is compelling, and St. Luke's believes the effort is crucial, given the vulnerabilities of the global supply chain, back orders, substitutes, recalls, extenuating lead times, port and customs delays, exorbitant shipping premiums and rapidly rising costs of raw materials and finished goods. At the same time, the organization's size and geographic location make it an unusually appropriate candidate for such a project.
"This initiative is not for every hospital or health system," St. Luke's Vice President of Supply Chain and Procurement Adrian Wengert said. He and his team traveled the country, looking at the consolidated service centers of multiple health systems to assess features, layout, technology and other characteristics of successful enterprises.
Wengert and other St. Luke's leaders and executives have come out of the pandemic with a deep appreciation for the collaborations that breaking down silos can facilitate; the consolidated service center is going to benefit from much of that learning in a very significant way.
"The Supply Chain and Pharmacy teams have developed a close working partnership and have many similarities in functions," Wengert said. "Synergies can be optimized and expanded when our teams are co-located.
"We just have so many opportunities to work together," he said. "Post-COVID, we have learned that we have opportunities to grow and mitigate risk."
St. Luke's Supply Chain gathers national recognition
Waste reduction, return on investment and a 360-degree view of sources and resources all go into St. Luke's Supply Chain's analysis when it comes to equipment and supplies – and are among the reasons the department has received national attention. Among its awards:
HealthTrust Social Stewardship recognition for supply chain excellence, specifically for transitioning to reusable sterilization containers.
Gartner ranked St. Luke's 31st nationally out of 171 health system supply chains.
Clinical Value Analysis certification. Team members are two of only 25 in the country who serve on a national committee of health care value analysis subject matter experts.
The Journal of Healthcare Contracting published an article about the department's pandemic response in 2021.
VP Adrian Wengert was named among the journal's 10 people to watch in health care contracting in 2019.
St. Luke's best-in-class recall program has earned multiple national awards from ECRI, including the 2021 Impact Award and the 2018 and 2019 Alerts Tracker Achievement Award.
Global Healthcare Exchange recognized St. Luke's Supply Chain, Accounts Payable and IHT teams with a Top 50 Health System award in 2019 and 2020 based on electronic data interchange utilization and exception management metrics.
Director John Barnes has represented the department and St. Luke's at six conferences since 2018, including the American Hospital Association's AHRMM health care supply chain conference in 2021 in Nashville and Health Connect Partners in 2020.