St. Luke's team rallies to the challenge to get equipment to COVID-19 patients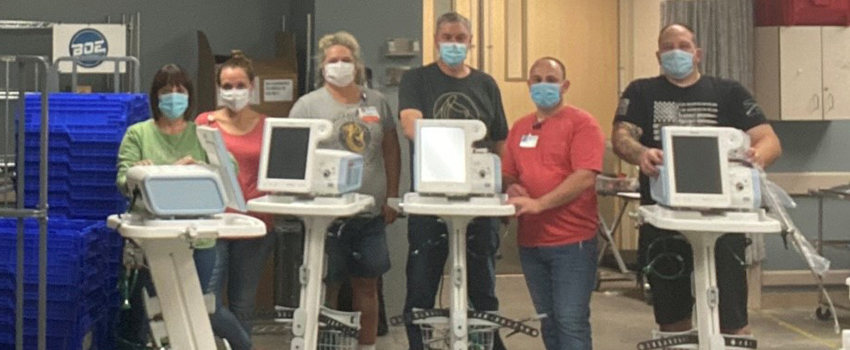 Julie Snyder, Laurie Martin, Julie Talbert, Troy Roberts, Andrey Rubin and Chad Franklin stand with assembled BPAP machines just after midnight.
By Dave Southorn, News and Community
With patients, primarily those with COVID-19, in dire need of ventilators, a group of St. Luke's employees recently demonstrated the organization's mission – to improve the health of people in the communities we serve – in a remarkable way.
On a mid-September Saturday evening and into the early morning hours of the following day, they picked up a delayed shipment of BPAP (the initialism stands for bilevel positive airway pressure) ventilator machines from the Boise Airport and assembled them at St. Luke's Meridian.
Laurie Martin, a St. Luke's supply chain manager, was at the center of the relay. She turns the credit back on her colleagues.
"Had these teams not come together to get this done, we would have patients who did not have the appropriate equipment when they needed it," she said.
"We have some very special people at St. Luke's."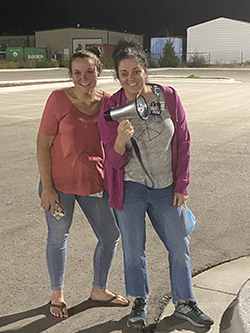 Laurie Martin and Krista Stadler
The night turned out to be far more eventful than Martin expected. She received a call that evening from Adrian Wengert, St. Luke's vice president of supply chain, that the shipment was delayed.
Martin called FedEx, to no avail. She decided to drive to the airport, ringing doorbells at the facility, peering into windows, trying to find anyone who could help.
She eventually found an employee who told her the shipment was not there, but at a ground shipping location. Off Martin went, only to learn that the shipment was on a truck due to be unloaded Monday. But waiting until Monday for delivery was not an option.
"I knew it was a long shot for me to track them down, but I was desperate," Martin said. "We had patients who needed these devices and we couldn't wait."
Martin explained the circumstances and was able to get the OK for the truck to be unloaded immediately.
That's where Krista Stadler, St. Luke's director of telehealth services, stepped in.
She and her husband arrived with their toy hauler ready to take on the order. With the help of "two amazing" FedEx employees, dozens of boxes were loaded up, bound for the Meridian hospital.
"As soon as I heard what was in that delivery, I knew I had to do whatever it took," one of the two said.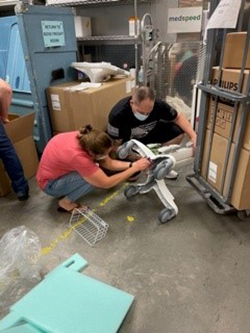 Julie Snider, Troy Roberts, Julie Talbert and Chad Franklin of the St. Luke's respiratory therapy group and Andrey Rybin from the St. Luke's biomedical team were ready to greet Martin and Stadler a little after 10 p.m. The assembled the equipment on the dock of the Meridian hospital; just past midnight, they were done after Rybin ran the safety checks. Within hours, they were placed with patients.
For the St. Luke's supply chain team, it was another example of getting creative and finding a way to get the job done. Early in the COVID-19 pandemic, when some critical supplies were particularly hard to find, the group reached into dental, veterinary, hospitality, pharmaceutical lab and even tattoo distribution channels to obtain much-needed personal protective equipment (PPE).
"Supply chain is here to serve our direct patient caregivers and patients. We're all in this together," Wengert said. "I am so proud of everyone's willingness and dedication to our patients to make obtaining and deploying those BPAPs happen.
"We know this was a life-and-death situation for critically ill patients, and turning the impossible into the possible is our calling."
It was a meaningful moment for Martin, seeing so many people put every ounce of effort they could into helping patients, from clinicians working 12 hours and having dinner at home only to return to assemble equipment, to Stadler finding someone to watch her kids as she made a late-night run with her husband to load up their trailer, to Rybin, coming from home just to make sure the ventilators were ready for patients.
"This is a truly amazing place to work," Martin said.