Helping children cope: St. Luke's celebrates 30 years of child life as vital part of care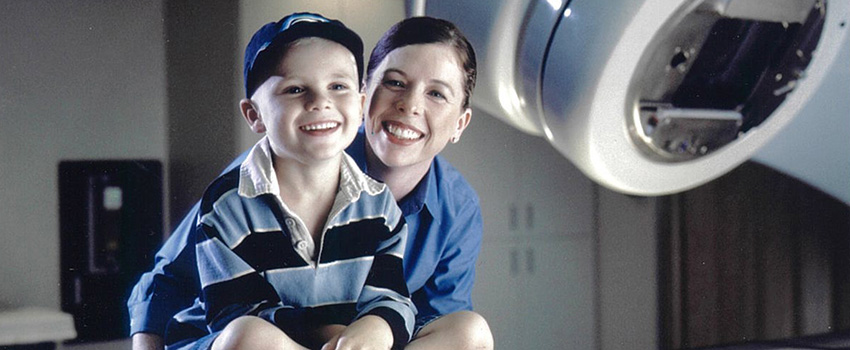 Kim White has worked in child life at St. Luke's for 27 of the 30 years it has been part of the hospital.
By Dave Southorn, News and Community
There is a lot more to Kim White's role than "the bubble lady."
White has been a child life specialist at St. Luke's for 27 years, nearly as long as child life has been part of the hospital. Child life celebrates 30 years of being a vital resource for children, families and providers alike Wednesday, Aug. 17.
"As child life professionals, we help children and families cope with the stress and uncertainty of hospitalization, illness and injury," White said. "People often mistake us being 'the play ladies' … (but) child life very much aligns with St. Luke's mission, vision and values."


A throwback photo of the child life team's "teddy bear clinic" showcasing the team's work.
Sure, finding ways to make kids feel calm in hospital visits can involve blowing bubbles, but it can entail being a consistent presence at appointments or finding any number of techniques to make children comfortable.
According to the Association of Child Life Professionals, child life specialists "provide evidence-based, developmentally and psychologically appropriate interventions including therapeutic play, preparation for procedures, and education to reduce fear, anxiety and pain."
Whitney Russell has seen that frequently as she has taken her two daughters, Aspen and Quinn, to St. Luke's. Both are autistic, so being prepared for hospital visits is very important.
Russell's daughters have worked with child life specialists since Aspen, now almost 10, had to be in the hospital when she was 4. Russell said "I had no idea what child life was" when someone came into her room asking if she wanted to do some art or play with some toys.
A year later, when Aspen needed her tonsils removed, Russell requested a child life specialist, and they got a tour of the room where the procedure would be done.
"It makes all the difference," Russell said. "Kim would hold an iPad during appointments to let the girls focus on something else. She's an amazing advocate, all child life is, talking to the staff about what the kids need … they've even given us a little bag of some of the things they might see at an appointment, masks and small medical items, to kind of 'practice' at home."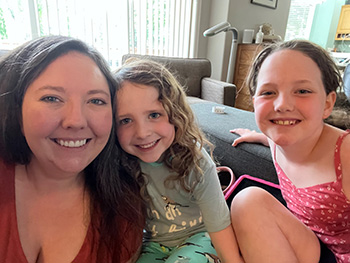 For a time, White was the only child life specialist in Idaho, but has since seen her team grow to more than ten people, offering services in Pediatrics/PICU, surgery, Children's Cancer Institute and Children's Pavilion. It also includes three teachers in the hospital school program and two music therapists.
It's come a long way since the pediatric ICU was only five beds or pediatric oncology was a borrowed exam room in what is now St. Luke's Cancer Institute.
"The child life office was a converted broom closet … you've got to start somewhere!" White said.
For providers like Dr. Jacob Robison, an ear, nose and throat specialist, having a strong child life program makes a major difference. He noted that reducing stress for children and families allows providers to use fewer sedative medications, be able to move more efficiently and makes the patients better prepared for future exams or procedures.
"I have worked at multiple Children's Hospitals across the country and each of them had a Child Life program. St Luke's is hands down the best of all of those," Robison said. "Child life specialists don't just help children adjust, they also dramatically decrease the anxiety and stress of the entire family. Their ability to connect with individuals, particularly the children, and to explain what is happening lessens the negative impact of that stressful time."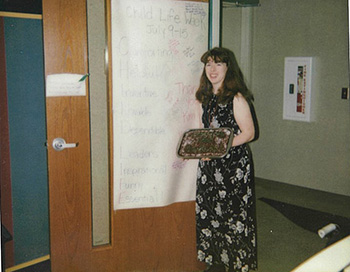 Kim White celebrating Child Life Week in the early 2000s.
Russell is hopeful to see child life continue to grow. She said it has helped in so many areas of her children's care, noting examples like child life specialist Sarah Berkowitz accompanying Quinn to the operating room and making sure she had her comfort item waiting for her afterward, or child life having an IV put in her "baby," her favorite doll.
"All of our experiences have been wonderful," Russell said. "Kim, who I'll hold like family, and everyone there has gone above and beyond for us. Child life is such a great resource I hope every parent knows about. They're such a valuable asset to us, but also, I think, to the hospital.
"Even if your kid doesn't have special needs, utilizing them will make them more willing and much less upsetting. We plan, look up what to expect. Kids don't have that capability. Child life has that knowledge of all the procedures and can show them how it works."
For White, even after 27 years, she still finds the same joys in the job that she did when child life was, well, in its infancy.
Child Life is such a juxtaposition of the highest highs and the lowest lows," White said. "The thrill of watching a child and family master their health care experience and the heartbreak of walking with a family through the loss of their beloved child. I feel honored to be a part of it all. Any time that you are able to witness a child's transformation from being scared to even walk into the hospital doors to entering the procedure room full of confidence and pride in their ability to cope, is a beautiful thing."
You can donate to child life through the St. Luke's Foundation, click here and select "Child Life" under the designation dropdown menu.