Of all the unexpected ways the COVID-19 pandemic has affected us, it has made us a little more flexible when trying to organize, well, anything.
Such was the case for the team of child life specialists at St. Luke's Children's Hospital.
In most years, team members hosted a Christmas carnival for St. Luke's Children's Cancer Institute patients and their families. Last year, they sent out activity boxes. For 2021, they tried something new.
"(Child Life Assistant) Jennifer (Browne) had this thought – 'why don't we have a drive-in move night?' and we thought it was perfect," said Kim White, a St. Luke's child life specialist.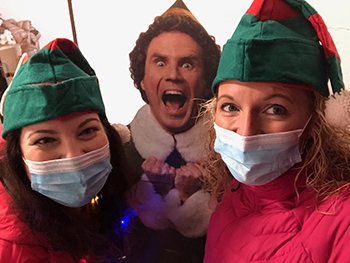 Initially, the plan was to find a space and put in a temporary, inflatable screen. But after looking around, they found they were able to rent out the Terrace Drive-In Theatre in Caldwell for themselves.
More than 25 families drove in for the event Dec. 4 to watch the now-holiday classic 2003 movie "Elf."
With each family in their own little pod, it was the perfect venue to safely watch a movie together, in a way.
"Families had so much fun, it was really cool," White said. "It was important for us to include the whole family. Siblings are unable to visit clinics right now, so to be able to interact with a family unit was really special."
White, Browne and Child Life Specialist Jessica Hardy, along with volunteers from Children's Hospital and the Boise Optimist Club, brought drinks and popcorn to each car.
Families also received goodie bags with a nod to a memorable line in the movie from Buddy the elf: "We elves try to stick to the four main food groups: candy, candy canes, candy corns and syrup." Inside each bag was a family-sized pack of licorice, candy canes, candy corn and yes, even a mini jug of syrup.
During the event, White saw the families' reactions and immediately knew how much it meant. She has since received a handful of email messages showing their appreciation.
"I think we all just felt energized and uplifted to provide something fun and bring a sense of normalcy in a time without much normalcy. It was really successful on every level," White said. "It was fun to think outside the box, have a new dynamic, still be able to provide a service but in a totally unique way."