Not long ago, 3.1 miles was nothing for Wendy French.
But after a bout with COVID-19 earlier this year, followed by a diagnosis that she had rheumatoid arthritis, French was unsure if her walking hobby could continue.
"I was walking 25, 30 miles a week before I had COVID, and it was so tough, I had never been in so much pain, I wasn't sure if I could do any distance, let alone a 5K (3.1 miles)," French said.
French had already signed up for a 5K, however, and it gave the Buhl resident and longtime Magic Valley educator the inspiration she needed.
Apart from a few years when she lived in northern Idaho, French routinely took part in St. Luke's FitOne (and before that for about 25 years, FitOne's predecessor event, the Women's Fitness Celebration). She had signed up early for the 2021 edition of FitOne before her health battles, so the end of September seemed like a doable goal.
"I always have loved the mission and philosophy of FitOne, inspiring people to be active," French said. "I kind of thought, 'I won't let this stop me.'"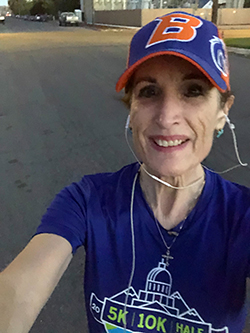 Having a virtual race worked well for French, who could plot out a relatively flat course. She wasn't going to worry about her time, just appreciate the fact she was back out there.
On Sept. 25, French achieved her goal – she walked all 3.1 miles, averaging 16 minutes per mile. It wasn't close to the 11 minutes she has averaged in competitive race walks, but it didn't matter.
"I did a couple prep walks leading up to it, but I still wasn't sure if I could do it all – so when I finished, I just started crying, thinking 'I didn't think I could do this,'" French said.
That's part of the FitOne allure – personal victories and pushing forward, no matter the distance.
For French, 62, it was another step toward normalcy.
In February, days before her second COVID-19 vaccine dose, she tested positive. The pain, the fatigue, the respiratory issues, it was hardly bearable. She wonders how much worse it could have been if she had not had that first dose.
A few weeks later, she felt serious pain in her joints that had never occurred before. Sleeping wasn't easy and it felt "like icepicks in my back."
French was then diagnosed with rheumatoid arthritis, which has led to numerous medical appointments and medicine that will help prevent inflammation but that she'll need to take the rest of her life.
Her FitOne walk was a symbolic win, and gave French a boost that she needed.
"Thank you, FitOne, for giving me the motivation to not give up on my health!" she said. "I'll be back, again next year …
"I'm not going to let this RA stop me from a healthier life."
FitOne is looking forward to a safe, in-person event in 2022. Stay updated at fitoneboise.org or follow FitOne on social media!