Boise-based runners take on St. Luke's FitOne, helping out kids in Idaho – and India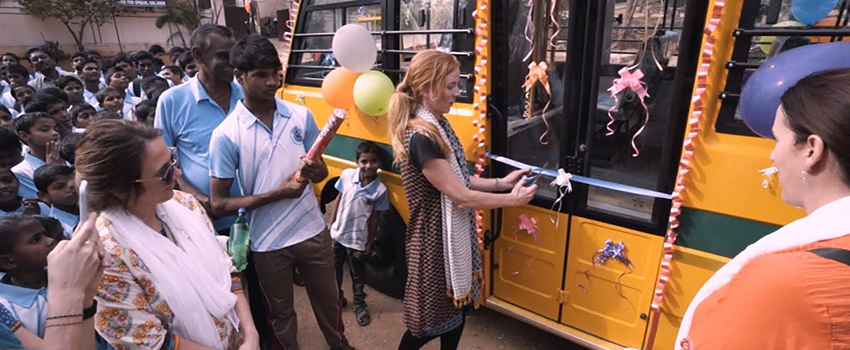 Dottie Bledsoe cuts the ribbon in 2018 on a bus the Boise-based nonprofit FiftyTwo.Four helped purchase, which enabled kids affected or infected with HIV/AIDS to have more mobility.
By Dave Southorn, News and Community
It was the perfect idea – combining an activity you love with a cause you love.
That was the logic for Dottie and Steve Bledsoe in 2007, when a life-changing trip Steve took with their Boise church sparked a big idea.
In India, he saw the challenges of daily life, especially for children. He returned with a plan – for Dottie, his wife, an avid runner.
"What if you ran four half-marathons in four weeks?" he said.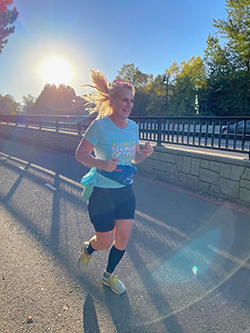 The idea for FiftyTwo.Four (the number of miles in four half-marathons) was born. Runners would be sponsored by donations, with 100% of the proceeds going to help children in India.
The cause is now in its 14th year. And the running group has taken it up a notch in recent years, blending their effort with St. Luke's FitOne; FiftyTwo.Four, 120 runners strong, took part in the FitOne virtual half-marathon this past Saturday and will finish its remaining three half-marathons in October.
"It's been incredible, just starting as this small thing, where we thought raising $500 would be cool, and now it's something I can focus my attention on year-round," said Dottie, the nonprofit's director.
The first year, eight runners flew past that goal, raising $13,000. In 2020, 115 runners raised $145,000. More than $1 million has been raised since 2008.
Dottie knew the running community was generous, but the backing for FiftyTwo.Four has blown away her expectations.
The non-profit organization focuses on helping children infected and affected by HIV/AIDS. Though community education has improved, she said, there is still significant stigma associated with the disease. That leaves many children orphaned or ostracized.
"Those kids have gone through so much in their short lives, things we couldn't even imagine," Dottie said.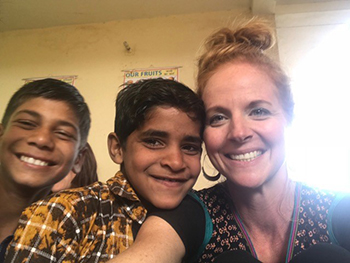 Through its events and donations, FiftyTwo.Four has helped build a girls' orphanage, purchase an ambulance and a bus and fund orphanage improvements for education and playtime.
After raising money for kids in India for a few years, Dottie made her first visit to the country to see first-hand what it was like there and to see how their Boise-based group has helped thousands of miles away. She and her husband traded off years visiting in the past; they hope to resume their trips when the pandemic eases.
"Steve was moved by what he saw, and I finally got to see it for myself. It really reaffirmed what we had been doing," Dottie said. "To actually see something we helped build is incredible.
"To see the transformation in the kids in a place they're safe and loved is really cool."
As FiftyTwo.Four's mission has become more well-known, its 100% grassroots operation has grown. Unlike Dottie, who runs in all the events, Steve prides himself in being a behind-the-scenes guy. Runners have joined up who never ran a 5K, let alone a half-marathon, let alone four in a month, but trained to run because they wanted to be part of the cause.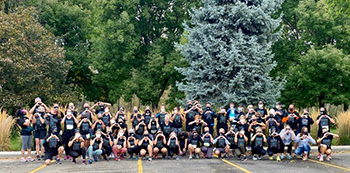 The 2020 FiftyTwo.Four team.
This is the third consecutive year FiftyTwo.Four has had a team at St. Luke's FitOne, and though they are eager for the in-person event to return, the virtual option is a benefit for such a large group.
"It does help," Dottie said. "People love to get the shirt and the medal and the number. It still feels like an event and not just running 13 miles.
And it is a great match – FiftyTwo.Four's runners support St. Luke's FitOne and its mission to benefit St. Luke's Children's while also helping kids in need a world away.