After brain surgery at St. Luke's, Kuna native savors life, from skydiving to hunting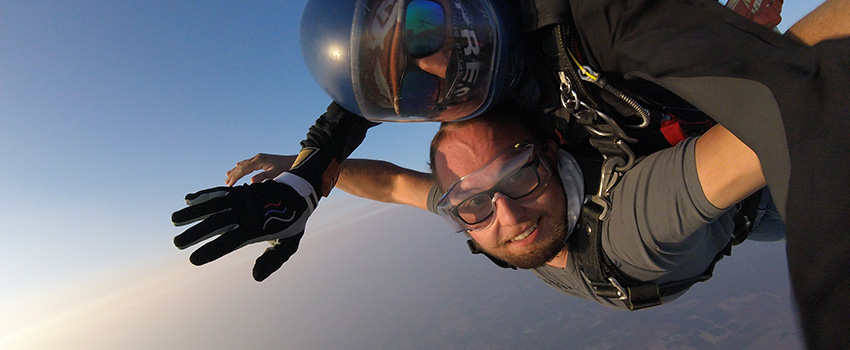 By Dave Southorn, News and Community
The diagnosis and the ensuing surgery could have been enough to keep him at home for a long time.
But Colton Kesling really wanted to go skydiving.
Kesling, a Kuna native, suffered a seizure last August and was soon diagnosed with a large brain tumor. The Stage IV glioblastoma covered most of the left side of his brain. A year earlier, he had battled through testicular cancer.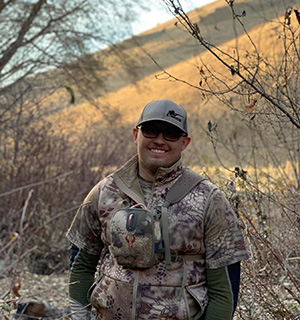 It all could have been overwhelming, but Kesling, then 24 years old, always has maintained a positive mindset, no matter what has come his way.
"At first, I was just mad that I couldn't work," Kesling said.
"When things happen like what has happened to me, you just have to appreciate everything else in your life."
One of those things is spending time with family, and yes, jumping out of an airplane about 10,000 feet above the ground.
Kesling's cousin took him skydiving six weeks after he had brain surgery to remove the tumor. The cousin had lost his father to cancer and was able to take him before his death.
"It meant a lot to him, and with the type of cancer he had, you never know what is next, so even if it was not long after the surgery, you couldn't say no," said Denise Kesling, Colton's mom. "You have to keep moving forward, and he made it a point to live life to its fullest."
Kesling said he had a great experience and is happy to say he did it – but isn't so sure he'll do it again.
"I wouldn't necessarily go and skydive so quickly after, but I think it was facilitated by his ability to recover quickly and resume doing a lot of the things he enjoys," said Dr. Edward Duckworth, a neurosurgeon at St. Luke's Boise Hospital.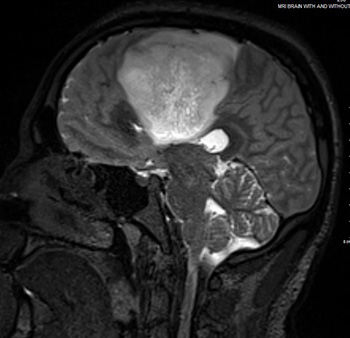 This scan of Kesling's brain, pre-surgery, shows the large tumor on the left side of his brain.
The cancer was discovered after Kesling had a seizure that lasted about 3 minutes while he rode in the passenger seat on the way to a construction site. Luckily, his co-worker had a sister with epilepsy and knew just what to do until an ambulance arrived.
Dr. Duckworth said the tumor, which was about the size of a tennis ball, was "pretty remarkable." But Kesling's experience attests to the advances made in neurosurgery that put him back on his feet faster than might have been expected.
"I continue to be amazed by what we can do, and I pride myself on how we can perform neurosurgery with smaller incisions and craniotomies than most places," Duckworth said.
"With how we can do it, especially with a younger patient like him, it doesn't debilitate you for weeks on end."
Since the surgery, Kesling has continued chemotherapy, which he said has been less taxing than the treatment he received for testicular cancer. That experience gave him a lot of familiarity with the St. Luke's Cancer Institute staff.
"It's a really good support network there, and that's been a big help," Kesling said.
Kesling's friends have been an integral part of his network as well, inspiring and helping him enjoy all the things he did before the tumor was discovered.
Friends and family members have taken him to do some of his favorite things.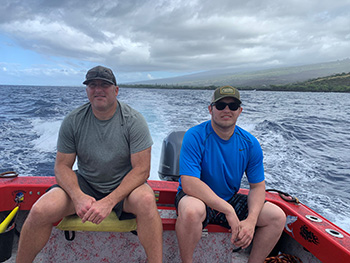 As soon as his treatment following surgery was complete, he went on an elk hunting trip, though he came up empty-handed. In December, he successfully hunted a mountain lion. He has a trip planned for this coming fall to hunt in Alaska. He's gone ice fishing a few times this winter, too.
He is looking forward to being able to drive again as early as February, though he won't be doing much construction work – seizure risk and ladders are too risky a combination.
"It has definitely opened my eyes to see what I want to do with my life versus what I have to with my life," Kesling said. "I like the outdoors, hunting, fishing, camping … I want to do as much of that as possible."
Taking it easy hasn't always come easy for Kesling, who played fullback on Kuna High's football team and was the 2014 4A state wrestling champion at 195 pounds. His family recently bought him a new bed and put a TV in his room for those days when he isn't feeling his best.
But whatever has come his way, he's shown that tenacity he did as an athlete.
"He's got a lot of strength to him," his mom said. "He always went the extra mile, and he gives that effort every day now, takes it on as it comes and makes the most of it."