St. Luke's NICU turns 50: Three original nurses look back at what they helped to bring into the world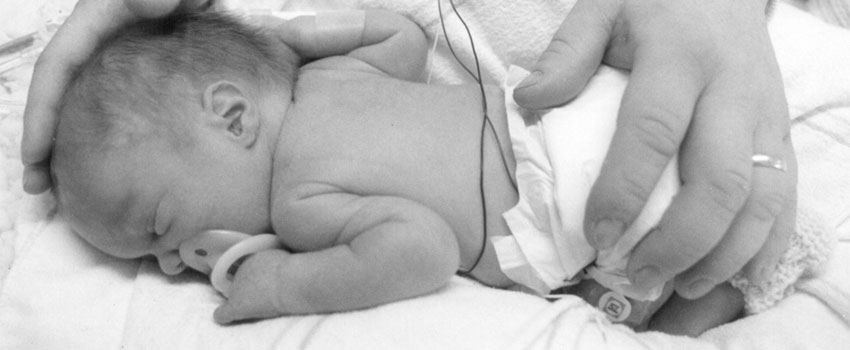 By Dave Southorn, News and Community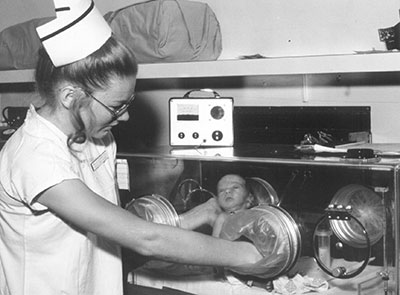 Kathy Snyder calls it the "hardest job you'll ever love."
Snyder was one of three nurses who staffed the neonatal intensive care unit (NICU) the day it opened at what was then St. Luke's Health System – St. Luke's Hospital in Boise – on Oct. 1, 1970.
She, Joyce Loveland and Jerri Waite were just starting their careers, but the love – and the hard work – was immediately worth it. All three would go on to work more than 100 years combined in the NICU until their retirements.
"It's amazing to think that we were part of the start, and that it was 50 years ago," said Loveland, who retired in 2011.
"It's a huge part of you. The love of it never goes away. I still dream almost every night about the NICU."
In a typical year, there would be a big party to honor all of the work done at the NICU, where a specialized team of physicians, nurses and other clinicians take care of the most fragile babies and help their parents connect with them so that they grow into healthy children.
2020 is not that year; in our current pandemic world, the sort of gathering lots of team members and grateful parents and former patients might look forward to is not an option.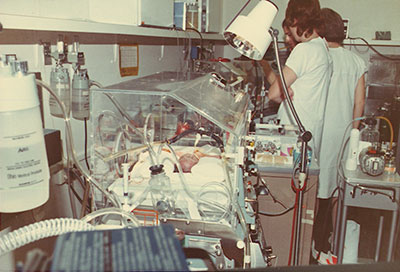 A look into the NICU.
"We may not be able to celebrate, but we can commemorate," Snyder said.
Perhaps that's fitting – when it opened officially, there was almost no fanfare. The trio (Snyder on the day shift, Waite in the evening and Loveland overnight) had worked with premature and/or ill babies for about eight months in the nursery until the NICU was christened.
They had a corner near the nursery, in what used to be a supply closet. The NICU had 10 beds, and nurses used any available means to get the job done.
There were no eye shields for the babies, so the nurses crafted some out of egg cartons. Most equipment wasn't disposable and had to be cleaned and reused.
Dr. James Noble, who oversaw the unit's creation, assisted in transport. Snyder recalls in the first year, picking up a pair of 32-week-old girls born in Caldwell and treating them in the back of Noble's station wagon as he drove.
The NICU got its first ventilator just before opening, at a cost of $5,000 generated from the annual ball. But with only one at their disposal early on, the nurses still would spend some eight-hour days hand-pumping oxygen into tiny lungs.
"We needed everything we could get," Waite said. "We had to get pretty creative."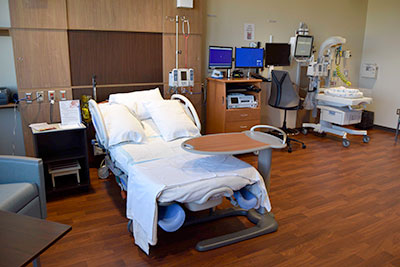 Today, the Boise NICU has 61 beds. The NICU is a level 4 facility, which provides top-level care, working with other hospitals in the West for higher-level procedures such as heart surgery or heart-lung bypass. And St. Luke's Health System now includes three other NICUs – Magic Valley is a level 3 facility, while Nampa and Meridian are level 2.
According to Dr. Scott Snyder, director of neonatology, the Boise NICU sees between 700 and 800 babies annually; approximately 1,200 are seen across the St. Luke's system. In the first year the NICU was open in 1970 into 1971, there were 380.
"It's pretty amazing they were able to handle that volume," Dr. Snyder said. "Nursing is the key to success in the NICU.
"It had to be a great challenge for them, because the needle keeps getting pushed to the limit as we take care of patients that are smaller and sicker."
As the technology, medicine and techniques have improved, so have the outcomes. Infant mortality has dropped nearly 400 percent since 1970 in the United States.
"There's now recognition of the tremendous importance of the family being at the bedside," Dr. Snyder said. "That's very different from the early NICUs."
Contact, between parents and babies and between nurses and parents, was minimal. Nurses weren't typically allowed to talk to parents unless a doctor was present. Now, their involvement is pivotal, and newer NICUs are designed for families to be there, as family participation is shown to reduce length of stay and lead to better long-term outcomes.
"We could see right in front of our eyes, the ones that had lots of interaction responded the best," Loveland said. "It was so, so new, we couldn't just go somewhere else and see how they did it. We were constantly learning."
The separation of the baby and parents made it difficult for all involved. Loveland recalls trying to add some levity by fashioning a bow on the head of a little girl out of some gauze. Her mother saw it and starting crying – she thought her daughter had undergone some sort of brain procedure.
"You grew to love those babies, but you also grew to love the parents," Waite said. "At first, it was because we were young, we got attached to those kids. It was hard to let them go."
In the years they worked at the NICU, the nurses often would receive Christmas cards or even graduation announcements for the babies they helped when they were most fragile. If sending them home healthy didn't provide enough satisfaction, seeing them grow up sure did.
And being so close, sharing such intense experiences, led to lifelong friendships for Snyder, Loveland and Waite. The three routinely gathered, often with other retired nurses, and are eagerly looking forward to doing it again safely. Loveland and Waite have cabins across the street from one another in Cascade.
"The most rewarding part was growing up with them," Snyder said. "You cannot describe the things you experience together there, the good and the bad."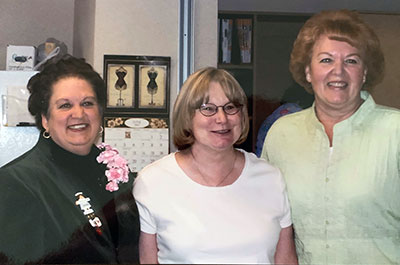 From humble beginnings, the Boise NICU has moved a half-dozen times around the hospital and seen numerous upgrades. In the early 1990s, it had a capacity of 29, with a six-bed annex added in 1998.
The Campaign For Kids raised $8 million by 2004, which among other improvements, included the construction of the current NICU. More than $1 million was raised by St. Luke's Health Foundation in 2008 for new ventilators and other equipment.
Dr. Snyder hopes, as the NICU enters its sixth decade, to continue pursuits of less invasive medical techniques and connections with families.
"Things have changed so much in the last 50 years," he said. "Our survival rate in the NICU is 98-99 percent, and we'll keep trying to improve that."
There is also the possibility of a virtual NICU at home, so babies can get out of the hospital earlier and bond more quickly with parents. And telehealth and other advancements can allow him to help remotely with a delivery in McCall, for example.
One thing has not changed: team camaraderie.
"It's a rare thing, how well our people work together," Dr. Snyder said.
To be part of something so new, to see it grow and continue to thrive, warms the hearts of the nurses that helped make the NICU what it is today.
"It's an interesting feeling," Snyder said.
"I just feel like we were absolutely meant to be there."