St. Luke's has a new way to honor organ donors thanks to a local Eagle Scout. St. Luke's hospitals in Boise and Meridian will now fly a special flag every time a patient and family chooses to give the gift of life and donate their organs.
Milton Miller presented the Donate Life flags to St. Luke's leaders, medical staff and representatives of the Pacific Northwest Transplant Bank during a short ceremony Tuesday at St. Luke's Boise Medical Center.
The 17-year-old Eagle Scout from Boise developed this idea as his final project to complete his Eagle Scout Rank. That's the highest achievement in the Boy Scouts of America program and is only achieved by four percent of Scouts.
"I knew I wanted my project to have a real impact on my community," said Miller.
Miller researched organ donation and learned hospitals on the east coast often raise a flag every time a patient consents to donate their organs and tissue. Seeing that the tradition hadn't been started here, he approached St. Luke's about the possibility and presented his idea to leaders who were honored and supportive of the gesture.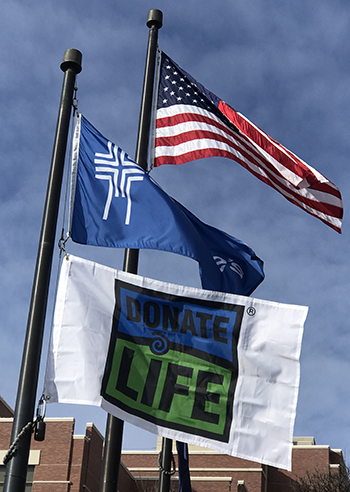 "Having been a part of the organ donation program for the past 22 years here, it's pretty special to me that Milton would want to do this," said David Bishop, St. Luke's Boise Medical Center's chief operating officer. "When I looked around at the crowd that gathered and saw all the people who make these gifts possible, it was pretty special. We'll be honored to fly these flags in honor of the patients' memories."
"The staff will be notified that every time they see a donate life flag out that sometime in the last three days a family agreed to turn a tragedy in to something that would be a gift for others," explained Alex Chamberlain, who is part of the team at St. Luke's that approaches families about the possibility of donation and mentors Miller.
The first flag raised Tuesday was flown in honor and acknowledgement of Kristin Clovis. The 32-year-old became an organ donor in December after suffering a cerebral aneurysm. Recognizing the lives that could be saved, her family chose to donate her organs. Clovis' family says a mother in her 30s received their daughter's lungs, a man in his 60s got her kidney, her heart and liver saved the life of a woman in her 40s, and her other kidney and pancreas were given to a woman in her 30s. Her eyes also gave two people in Idaho the gift of sight.
The Pacific Northwest Transplant Bank estimates 72 families have given the gift of life and donated their organs at St. Luke's Boise and Meridian over the last ten years. That's resulted in 235 life-saving transplants.
"St. Luke's is unparalleled when it comes to its dedication to the organ donation process and its commitment to excellence. Supporting donor families has always been its main focus," said Andrea Vandomelen with the PNTB.
As part of this project to receive his Eagle Scout rank, Miller spent time educating his troop, their families and his church about the importance of organ donation and registering to be a donor. He also raised the money needed to pay for the flags along with "Donate Life" pins that can be given to donors' families.
"I didn't really know much about organ donation before starting this and I didn't really see how big the need was for organ donation but now I really do and I hope I was able to make a difference in someone's life," Miller said.
In addition to raising the flag, St. Luke's will also continue the tradition of holding a "Walk of Respect" for each donor. That's where all available staff stop what they're doing to line the hallways leading from the ICU to the operating room elevators to show honor to the donor patient and their family.
To learn more about organ donation and how to register visit https://www.organdonor.gov/.