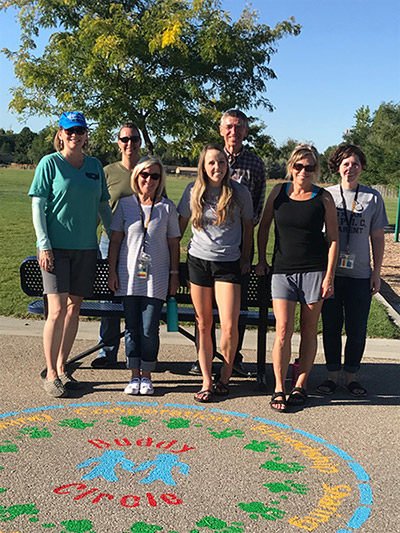 Adverse childhood experiences are traumatic events that happen before kids turn 18, but can have a lasting impact into adulthood, according to the U.S. Dept. of Health and Human Services.
Known as ACEs in the community health arena, these events may include abuse, neglect and household dysfunction. Studies show that higher numbers of ACEs can lead to detrimental health outcomes later in life.
To help children overcome ACEs, St. Luke's community health team is working to build resilience among Idaho's youth.
St. Luke's community health leaders including Lyle Nelson, Jean Fitzgerald-Mutchie and Angie Gribble recently led resilience-focused playground stencil projects at schools in Mountain Home and Nampa.
Painted onto playground surfaces at elementary schools, the stencils create fun and interactive activities, encouraging kids—and adults—to jump, stretch and play. Activities making use of the stencils can help create healthy lifestyle habits, Fitzgerald-Mutchie said.
"The focus of this project is to transform playground spaces while inspiring kids to engage in purposeful play that promotes health, imagination, teamwork, education and self-esteem – all in the name of fun," said Fitzgerald-Mutchie, St. Luke's community health manager in the Western Treasure Valley.
Funding for the stencils is part of the money raised through the annual St. Luke's FitOne program.
St. Luke's Vice President of Population Health Dennis Mesaros took part in the fun, helping paint stencils in Nampa. School, Central District Health and Elmore County Health Coalition representatives also contributed.
For the St. Luke's team, the project is what community health is all about.
"This is a really fun and easy place-making opportunity that promotes play, inclusion, mindfulness and teamwork," Fitzgerald-Mutchie said.