St. Luke's fills important and distinctive needs in Mountain Home and other home bases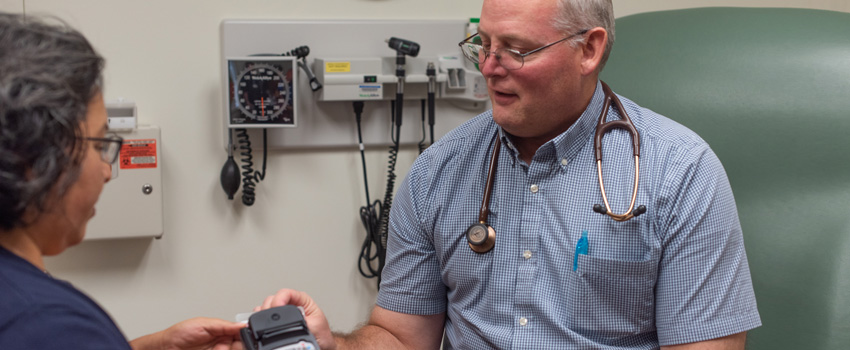 St. Luke's opened a new walk-in clinic in August. There are plans to add a provider and expand hours by the beginning of the year.
By Chris Langrill, News and Community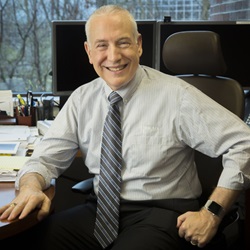 St. Luke's Elmore has been going through a transformation of its own, and we have found more and better ways to serve the Mountain Home community and the Air Force base and personnel there.
We have remodeled and expanded our emergency department, brought in board-certified emergency room physicians and hospitalists to deliver care for inpatients, remodeled and expanded labor and delivery services and established "Quick Care" walk-in services that have been popular since the clinic opened in August.
Here is Chris Langrill, a writer for St. Luke's Communications and Marketing department, with a report about how we have worked with the Air Force and community to meet residents' evolving needs.
- David C. Pate, M.D., J.D.
---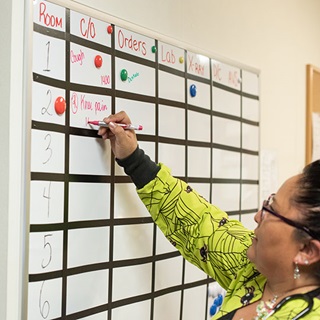 Senior Practice Manager Jaki Claunch and the team saw quickly just how popular the Quick Care clinic, which serves patients from the community and the Mountain Home Air Force Base, would be. The clinic treated 50 patients on a recent Monday, she said.
What do the Mountain Home Air Force Base and St. Luke's have in common?
Much more than you might think.
There's the outsized impact on the surrounding community, for starters, which is why St. Luke's stays connected with base leadership and aware of the military's evolving needs. Sticking close to the community – including, in Mountain Home, a sizeable military presence and a population connected in one way or another to a bustling base – is one of the ways St. Luke's shapes services and programs tailored for unique needs, community by community.
"I feel like we have a pretty good relationship with the base," said Jaki Claunch, St. Luke's clinic manager in Mountain Home. "The commanders are always keeping in touch."
A prime example of that communication and responsiveness has to do with the day-to-day needs of community residents. When officials announced the plan to wind down the base's urgent-care clinic, St. Luke's was prepared to meet the ongoing need. The base's clinic closed on July 15; a few weeks later, St. Luke's Elmore Quick Care opened its doors. And Air Force personnel have been among the steady stream of visitors.
"We're seeing a good amount of patients from the base every day," Claunch said.
St. Luke's is attuned to the differences among the communities in which its hospitals and clinics are located. The populations, the ways in which residents go about their lives and work and the health challenges they face are markedly different. St. Luke's plans with those variations in mind; the organization in recent years has initiated improvements to St. Luke's Elmore and emergency and Ob/Gyn services, among other initiatives, in response to the distinctive needs of residents of Mountain Home and surrounding areas.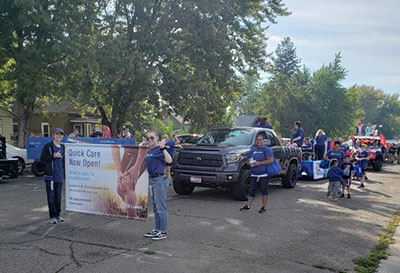 "There were conversations for a couple of years about the possibility of needing (an urgent-care clinic)," Claunch said. "We weren't sure how many people were driving to Boise to go to primary health and places like that.
"But with the base closing their urgent care, that did hurry it along."
It didn't take Claunch long after the clinic's soft opening on Aug. 5 to realize that her staff was going to be busy.
"The clinic here has been growing really fast, and we're getting a lot of patients," she said. "We are definitely seeing that this was a need in our community and for the base. So, it's great that it has happened."
The clinic has been operating from 8 a.m. to 5 p.m. Monday through Friday since it opened, and the demand has been high enough that the clinic will add to its staff. Claunch said she hopes to expand the clinic's hours from 8 a.m. to 8 p.m. by the beginning of 2020.
"When we opened in August, that's not really a time frame when you would think that people are needing urgent care a lot," Claunch said. "You figure there are going to be some injuries here and there.
"But we were busy enough that we realized, when sick season gets here, we're going to be really busy with the people with colds and sore throats coming through."
Those colds and sore throats will belong to people on and off the nearby Air Force base.
"We are grateful for this community and all the support they continue to provide our airmen and families," said Col. Michelle Aastrom, surgeon general of the 366th Fighter Wing. "Our partnerships in Mountain Home are key in our success here on base, and we are thankful to have such strong relationships within our community."