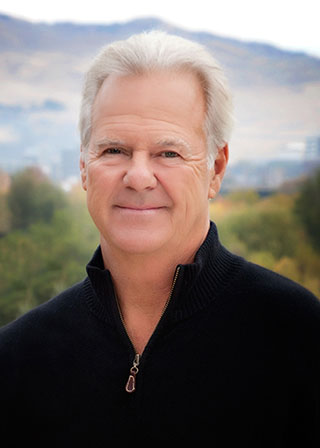 Each year, St. Luke's highlights individuals who have helped St. Luke's fulfill its mission of improving the health of the people in the communities we serve.
St. Luke's wouldn't be able to fulfill that mission without the support of individuals and businesses throughout our state – and beyond.
The Ralph J. Comstock Jr. Light of Philanthropy Award is one of the most significant ways St. Luke's recognizes important individuals for their outstanding achievements in leadership, philanthropy and humanitarianism. Since 1996, the award has been given to leaders in education, business and community, trail blazers in the nonprofit sector and champions of Idaho.
This year, the St. Luke's Health Foundation is proud to present the award to John Jackson in recognition of his dedicated service and enduring commitment to advancing philanthropic and humanitarian causes to benefit our community.
"John's philanthropic endeavors have made a tremendous impact on our community," said Eldon Book, chairperson of the St. Luke's Health Foundation Board of Directors. "His support continues to make a positive difference on lives of many individuals."
A native of Homedale, Jackson launched his business in 1975 while a junior at Boise State University studying accounting. That business began with a single service station in Caldwell. Today, Jacksons, a Meridian-based company, has grown to more than 250 locations in six states that employs more than 3,000 people. Jacksons is one of the largest privately held companies in Idaho.
Jackson also founded and owns Jackson Energy, a wholesale and transportation company; Capitol Distributing, a grocery wholesaler that distributes merchandise to more than 650 convenience stores; and Jackson Jet Center, which offers private charter flights and provides aircraft maintenance and aviation services.
Numerous organizations and schools throughout Idaho have benefited from Jackson's generous spirit. He is passionately committed to his hometown of Homedale and has made a lasting impact supporting local schools, sports facilities and the library, to name a few.
"John's efforts serve as a reminder that each of us can also make a difference," Book said.
Jackson, who has served on the St. Luke's Boise/Meridian Board of Directors, has a long history of supporting St. Luke's and its mission. In 2011, Jacksons Food Stores donated $500,000 to support the Idaho Elks Children's Pavilion.
Jackson's wife, Bonnie, sought treatment at St. Luke's MSTI as she fought a hard, five-year battle for her life with grit, grace and intelligence. The skybridge on the fourth floor of the new Idaho Elks Children's Pavilion is named the Bonnie Jackson Skybridge in honor of Jackson's late wife.
Jackson will be honored at the annual St. Luke's Ball, which will be conducted Friday, Oct. 25 at the Stueckle Sky Center on the Boise State campus. A no-host cocktail reception begins at 6 p.m. A dinner and award program begins at 7 p.m., followed by live music and dancing.
Tickets are available for $125 and can be purchased by contacting the St. Luke's Health Foundation at 208-381-2123 or by email at [email protected].