St. Luke's Dr. David Pate: Celebrating 10 years and looking ahead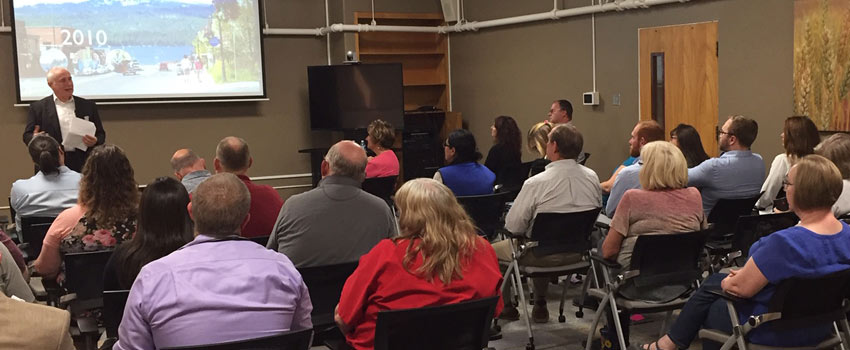 By Dr. David C. Pate, News and Community
On Aug. 31, I celebrated 10 years with St. Luke's Health System.
It's been quite a journey, and during visits with the team at many of our locations over the past few weeks, I've had the chance to reflect on how much change there has been and how much we have been able to accomplish in that 10 years; what follows is an abbreviated chronology of what we have achieved together.
In 2009, St. Luke's became Idaho's largest "private" employer, with more than 8,500 employees; we now have more than 14,500 St. Luke's team members. We had an annual operating budget of $1 billion; our operating budget now is on track to be nearly two and a half times that.
At that time, St. Luke's had been a health system for three years, with the addition of St. Luke's Magic Valley in 2006; the Twin Falls hospital hadn't been completed. Our Eagle Medical Plaza had opened in 2008. The system amounted to St. Luke's Mountain States Tumor Institute, more than 70 clinics, St. Luke's Children's Hospital and the hospitals in Boise, Twin Falls, Meridian and Wood River; we had 786 beds among the four. In 2009, more than 7,500 babies were born systemwide; St. Luke's Children's Hospital was caring for 50,000 children each year. We now have more than 200 clinics and care for about 103,000 children every year.
There were 970 physicians with privileges on St. Luke's Health System medical staff; of those, 195 doctors and 45 nurse practitioners and physician assistants were caring for patients through St. Luke's Clinic.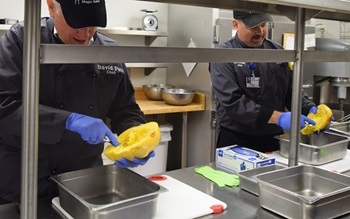 I set intentions of alignment within and across the health system, optimizing the leadership team and instilling accountability throughout the organization. I also set a goal that St. Luke's would become a national quality leader by 2015; we made the Truven list of America's best health systems in 2014, a year earlier than I'd originally thought.
Quality was the aim, from the beginning. I couldn't sleep at night thinking that someone's outcome might differ from location to location.
Affordable care was being discussed in Washington, D.C., and I knew that was a real warning sign; when government feels it has to fix health care, you know you're in trouble. I believed we could make a good run at fixing care in our communities and should do so, not leaving it to the government to get involved.
I had come from Texas and watched the Enron tragedy play out. I believed that Enron's leaders had drifted and did not act in concert with their values. We needed to be very clear on our values. So we focused on a simple, memorable set of values: integrity, compassion, accountability, respect and excellence.
2010
In 2010, McCall Memorial Hospital joined St. Luke's, becoming St. Luke's McCall, the fifth hospital in the system.
St. Luke's Treasure Valley received a third Magnet designation. St. Luke's has been a Magnet designee continuously now since 2002. This speaks to the excellence of St. Luke's nurses and our commitment to nursing, and that our organization has become an employer of choice among the country's best nurses and nurse leaders.
We began to tackle sepsis as a team. Early phases of the effort were known as the Garfield Project, for the 20th U.S. president who died of sepsis.
We were very interested in moving from pay for performance into making sure our patients received value for care, which means focusing on population health, and so we began to pilot clinics and projects. Dr. Andrew Chai and his colleagues at St. Luke's Idaho Cardiology Associates started what has become St. Luke's Heart Failure Clinic, one of those early efforts to pursue value by adopting a team approach and viewing the continuum of patients' care.
The Patient Protection and Affordable Care Act (ACA) was signed into law.
2011
The hospital in Jerome joined St. Luke's and the new St. Luke's Magic Valley hospital opened. We announced plans for a new medical plaza in Nampa to house urgent care, clinic space and a full-service ED. Six years later, in 2017, our medical plaza began taking patients as a hospital.
St. Luke's new Central Laundry and Reference Laboratory opened in two former Micron Technology buildings on Denver Way. The centralized functions increased capacity, saved water and utility costs and paved the way for lab innovations to come.
We launched what we called Project Zero, after Dr. Bart Hill, who is now our vice president and chief quality officer, moved to form a task force on surgical site infections. We started in ortho/neuro to reduce the infection rate. We have steadily driven down our infection rates and what started as Project Zero has spawned multiple spinoff clinics and innovations, including our perioperative and metabolic syndrome efforts, the work of our pulmonary nodule committee and our "prehabilitation" focus.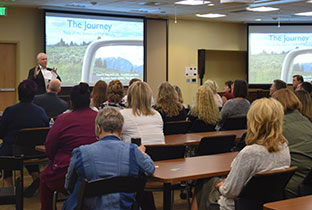 Spending time with the St. Luke's Magic Valley team.
2012
In 2012, as a consequence of our systemwide quality initiatives, our survival rate for sepsis had improved to the point that statistically, 51 patients' lives have been saved in just two years. Along with Project Zero and those spinoff clinics and initiatives, this was an early indication of the potential for alignment and quality improvements.
We had begun planning for the implementation of myStLuke's, our common electronic health records system. St. Luke's Nampa opened as a medical plaza, and we began our alliance with SelectHealth, an insurance subsidiary of Intermountain Healthcare in Utah. This relationship jump-started the transition of the business model for us toward a value orientation.
Our virtual intensive care program began with an $11.7 million Innovation Award from the Centers for Medicare and Medicaid Services, ultimately leading to our virtual care center. We launched in January 2013. We called it our eICU Program.
We partnered with Bogus Basin to track injuries using a computer program jointly developed by providers, the information technology team and members of the ski hill staff. The project demonstrated ways St. Luke's could engage in community health outside conventional channels.
We became the only hospital in Idaho and one of the few in the Pacific Northwest to offer the Transcatheter Aortic Valve Replacement (TAVR) procedure.
We announced the new Fruitland Medical Plaza to consolidate all of our Fruitland medical services and add an emergency room, and St. Luke's Treasure Valley received Joint Commission certification as an advanced primary stroke center; Magic Valley and other locations have followed. St. Luke's Clinic Baker City was named an "exemplar practice" in the Robert Wood Johnson Foundation's LEAP best-practices program, and we applied to become a federally recognized Accountable Care Organization. We had started our move toward value and to become accountable for the costs of patient care.
2013
We began operating as an Accountable Care Organization. Our St. Luke's Magic Valley Quick Care opened, to receive ED visitors more appropriately seen in a lower-cost setting. Hours subsequently have been expanded and the clinic has become a model for immediate-care outlets elsewhere in the system.
In 2013, Elmore Medical Center in Mountain Home joined St. Luke's and became St. Luke's Elmore, and we contributed more than $26,000 to build a track at Star Elementary School, in keeping with the ways in which our community health efforts were beginning to align closely with community needs targeted in our Community Health Needs Assessments. Nampa's Endeavor Elementary School followed.
Also in 2013, we began collaborating with iVinci on improvements to our billing processes. Our platform became Bill Pay, an electronic payment system that allowed patients to tailor repayment plans and manage family accounts. The platform was one of our early efforts to improve the patient/consumer experience and provide transparency; payment performance improved by more than 30 percent.
Our Meridian outpatient surgery center opened, and St. Luke's Women's Fitness Celebration became St. Luke's FitOne.
What by this point had become St. Luke's eICU Program was monitoring and assisting clinicians in critical-care units and emergency rooms at 14 hospitals in Idaho, as far north as Grangeville and as far east as Twin Falls.
2014
2014 was the year we were first named to what was then the Truven Health Analytics Top 15 Health System list; Truven is now part of IBM Watson Health. We were in our eighth year as a health system, and we got to this point a year before I'd believed when I arrived five years earlier. We are now in our sixth consecutive year of being named to this list. Very, very few systems have achieved what we have achieved, and even fewer that are as young as St. Luke's is.
Also in 2014, U.S. News & World Report named Boise and Meridian the top hospitals in Idaho. St. Luke's Fruitland Medical Plaza opened with an urgent care and full-service ED, and Elks Rehabilitation Hospital joined St. Luke's.
2015
We prepared for Ebola. The exercise turned up opportunities and again emphasized the benefits of being a health system.
We launched our Unique Families program, focused on adoption and surrogacy. The program evolved to include the care needs of migrant and refugee families, inmates and the victims of sexual assault and domestic violence. The program has attracted national attention.
We received our fourth Magnet designation; only 30 hospitals in the nation have reached this level of nursing excellence, and we broke ground on our Nampa expansion, which ultimately became our Nampa hospital, three years after opening our medical plaza there.
2016
2016 was the 10th year of St. Luke's Health System.
A nine-month-old boy became the first bone marrow transplant patient in Idaho, at St. Luke's Children's Hospital.
Concerted work to drive down stroke response times in partnership with Ada and Canyon County paramedics resulted in dramatic improvements, again showing the value of community partnerships.
We partnered with the City of Boise and community organizations to support the city's Housing First initiative. Partners have gone on to help develop the New Path housing and social services support program on Fairview Avenue in Boise.
The Centers for Medicare & Medicaid Services reported St. Luke's Boise and Meridian hospitals as the top hospitals in Idaho and the only Idaho hospitals to receive the full five stars in the centers' new quality star ranking system. There were only 102 hospitals so ranked across the entire country, out of approximately 4,000 ranked; specialty and smaller hospitals, including smaller St. Luke's hospitals, were not ranked.
Our common electronic health records system, myStLuke's, went live systemwide on Oct. 1. The platform has saved lives in countless ways, connected patients and providers across locations and offices, turned up actionable data and patterns for process and operational changes and improved the experience for employed and independent providers, other St. Luke's employees and patients.


St. Luke's Magic Valley Chief Operating Officer/CNO Arlen Blaylock supervising the proceedings.
2017
2017 is when we got going on Strategy 2020, with strategic objectives having to do with population health, St. Luke's Health Partners and community health. By this point, a third of our revenues were under risk contracts. I find that when I talk to my colleagues across the country, other health systems are putting 4 percent, 5 percent, maybe 6 percent, of their revenues at risk. This does not strike me as a significant percentage, certainly not significant enough to make a difference in how care is delivered.
The Idaho Elks donated $5 million toward St. Luke's Children's Pavilion. We have been celebrating the Elks' incredible generosity and contribution this summer. The Pavilion is just beautiful and is going to be such a vital and valuable resource for the families in our communities.
We automated our microbiology laboratory platform, cutting wait times for test results in half and helping us to avoid using antibiotics that might not be helping patients. Our lab has become a nationwide model and award winner.
Our very large sequoia tree was successfully moved during the downtown campus development work as thousands of people around the world watched its progress through our social media channels. I am very glad to report that the tree is thriving in its new location across the street in Fort Boise Park!
St. Luke's Nampa full-service hospital opened, and hundreds of people flocked to our area to experience the Great American Eclipse up close. We were prepared, and very grateful that worst-case scenarios did not pan out.
2018
MSTI became the first site in Idaho to be designated a National Marrow Donor Program Apheresis Center, and one of our patients received the first allogeneic stem cell transplant in Idaho.
Work was well under way around the Boise downtown campus.
We partnered with the YMCA, the Meridian Library District, the City of Meridian and the West Ada School District to open The Hill, an innovative mixed-use complex for the fast-growing and underserved area of south Meridian, and work began on the St. Luke's McCall modernization project.
Our virtual care center opened, six years after we began our electronic monitoring program in ICU settings, and the Idaho College of Osteopathic Medicine admitted its first students, which is going to be a significant source of physicians for rural communities in particular.
St. Luke's McCall received Level IV Trauma Center designation as the first piece of a trauma network within St. Luke's to include Children's, Magic Valley, Meridian and Wood River. Magic Valley subsequently received Level III designation and St. Luke's Wood River, Level IV.
2019
This year, we have been named for the sixth consecutive year to the IBM Watson Health Top 15 list.
Our pediatric trauma program has begun, and our early results have shown just how needed this service has been.
Quick care, in Twin Falls for the past seven years, is expanding in the Magic Valley and has been taken up in Mountain Home.
Idaho Elks Children's Pavilion at St. Luke's Boise opened at the beginning of September.
It has been an incredible time in our history. As of fiscal 2018, the last complete year of accounting, St. Luke's was composed of eight medical centers (plus MSTI, Children's and Elks), 1,005 beds, more than 200 clinics, 1,542 providers and 14,434 employees. There were 1.7 million clinic visits, 853,435 hospital outpatient visits, 7,836 newborns and 103,090 children served. I think of this compared with where we were a decade ago, and how many more people are being served.
So where do we go from here?
Along with our board members and community partners, we're polishing our plans now for the next five years. We know that there are access challenges. Health care in general has been created and designed around providers, not around patients. How many children, for example, have ever gotten sick Monday through Friday, 9 to 5. And yet, that's when we're open.
And that has consequences. My youngest daughter dropped her pediatrician when the office couldn't accommodate her family in a timely way, and she's not alone. People have choices now that they didn't have before. We need to change our hours and provide for access in new ways, because among other things, people will visit the ER when we don't build better access points, and that has all sorts of economic consequences for everyone.
There is a need for more access to primary care, behavioral health and care for aging populations across the board, and specialists in many communities. Rural and low-income patients also often have problems when it comes to transportation. We have staffing challenges in communities where housing and costs of living can be especially problematic. For these reasons and others, the use of telehealth to enhance access is sure to accelerate.
We also will be focused on affordability. We were right to focus first on quality, and we'll continue to do that, but health care must be more affordable, so we'll redouble efforts here.
And there are other challenges, such as behavioral health. There will never be enough psychiatrists for the needs of our area, so we'll look at clinic models and tech solutions and artificial intelligence going forward to supplement the team.
Exciting and terrifying things are coming our way in terms of medications. In some instances, we are seeing drug companies tackling rare genetic conditions but at stratospheric launch prices. This, again, becomes an access and affordability challenge. Gene editing holds promise as well.
In the next five years, we will have two presidential elections. Things will change; we don't know what the change will amount to. Will we eliminate Obamacare? Enhance Obamacare? Have Medicare for all? For some?
All the decisions made in Washington, D.C., have ramifications for us, but I will say that when I look at what the team has built over the past 10 years, I know St. Luke's Health System is prepared for anything that comes our way. I could not be prouder of this health system and the staff, board members, physicians and community members who together have made St. Luke's the outstanding health provider it is today.