Editor's note: On Nov. 6, Dr. Pate let the St. Luke's family know he would retire at the end of January 2020. Here is his letter to the team.
---
Dear colleagues,
I joined you in this marvelous enterprise, in the healing ministry of St. Luke's Health System, 10 years ago. What I saw then was very exciting. Our shared work could be a beacon of hope and inspiration. Health care could be better, safer, more innovative and more affordable. It could be done in Idaho, and it could be done by the people of St. Luke's.
I knew that we could do it together, and we have. The nearly 15,000 people who are St. Luke's, over the past 10 years, have propelled this organization into the ranks of the best health systems in America. We have been rated one of the top 15 health systems in the country for six consecutive years, and received the highest recognitions from almost every organization that rates or ranks health-care organizations on quality, safety and patient satisfaction.
We have not been complacent. We have pushed ourselves to excel further. Amid an ongoing national discussion about how to address health care, we took it upon ourselves to fix what we could. Like other health systems, we said that the fee-for-service reimbursement system was responsible for the dysfunction of the American health-care delivery system. Unlike other health systems, we took action. Starting in 2017, we placed more than a third of our revenue at full risk for the care of members, whether they receive their care at St. Luke's or not. Not only are we a national leader in quality and safety, but we have become a national leader in the transformation of health care.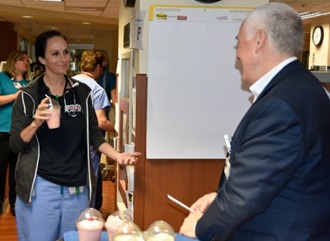 Our progress has been fueled by heart. St. Luke's is very special; we hear it from patients who have been treated elsewhere, providers who have practiced elsewhere and leaders returning from visits to other health-care organizations, but I want you to hear it directly from me. I know you all to be dedicated to providing the best care possible to those we are privileged to care for, passionate in your desire to be the best and committed to constantly improving and finding new and better ways to promote our patients' health and deliver their care. You provide exemplary care with unparalleled caring. I also know that those of you who work behind the scenes to support our caregivers, our patients and their families are just as dedicated, passionate and committed to the important work you are doing to enable front-line staff to deliver the excellent care they do.
I know some of you better than others, of course, but I have been alongside all of you through the journey, cheering you on in our shared successes and victories and grieving with you through losses and setbacks. I could not be more proud of you and of what we have accomplished together. You are truly amazing, and I am honored to have been on this journey with you.
Having come this far together, it's with great pride in and immense gratitude to you all that I have decided to retire at the end of January. I wish to thank the St. Luke's Health System Board of Directors for this amazing, once-in-a-lifetime opportunity to lead St. Luke's through this tremendous time of change and transformation. The board entrusted this precious community asset to me 10 years ago, and I am glad to be able to say that I will leave our organization well positioned, financially, structurally and operationally, and decisively headed into an innovative, integrated and very bright future. I am grateful to my predecessor, Ed Dahlberg, who had the vision to create what would become St. Luke's Health System, and for the incredible foundation that he put in place.
One of the qualities I was most struck by 10 years ago, as now, is the incredible wisdom and vision that community members who serve on our board have brought to their stewardship of our organization. Our board has had the foresight to make strategic and very thoughtful decisions regarding my successor, and it gives me a great deal of satisfaction to share with you that Chris Roth, St. Luke's senior vice president and chief operating officer and my trusted and valued collaborator over much of the past 10 years, has accepted the board's offer of the position of president and CEO. Chris and I have always worked well and closely together; we will have the opportunity over the next three months to ensure a seamless transfer of responsibilities and system functions.
I am pleased with and supportive of the processes that were followed and the thinking that has gone into our succession plan. In Chris, the board has selected a leader who is well tested, who I have had the great pleasure of working with for an extended period of time, someone who I know is committed to our vision of health-care transformation and who has substantial end-to-end experience in the health-care delivery continuum. Our succession plan and the opportunity that I have to work very closely over the next few months with Chris are among the reasons I am so confident in our direction.
I am indebted to my wife of 39 years, Lynette. She has supported me through a long and demanding set of careers and made many sacrifices. It is now time for me to be with her on a full-time basis. I also believe that God has been there for me, at some of the darkest hours and during my most difficult decisions, blessing me and St. Luke's because we are doing the right things for the right reasons.
I could have accomplished nothing without the amazing team that I have had the honor of leading; St. Luke's success has been the result of our collective effort. The depth of talent we have in our organization is remarkable, and that depth will carry St. Luke's forward. We also have among the best leaders in health care that I have ever been privileged to work with; the team and the leadership within the team give me great confidence in the direction and future success of St. Luke's Health System.
On more than one occasion, Gary Fletcher, who preceded Chris as our chief operating officer, noted that it is sacred work that we do. I could not agree more. I am reminded of that every day, when I meet with young parents who have just added a new member to their family, when I speak with a patient who is facing a scary diagnosis or procedure or when I talk with a family who has a member receiving our hospice and palliative care services. Your care and caring demonstrate that you believe every one of our patients, their family members and caretakers, our neighbors and coworkers, is a child of God, and you care for them with the reverence that is called for by that. I am among awesome people, and I count my blessings every day.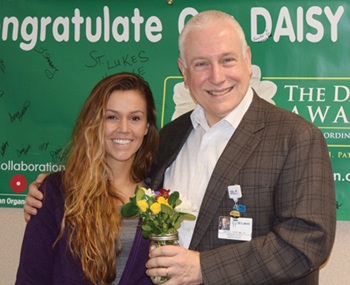 Thank you for being such magnificent companions on this journey. There is much to do over the next few months, and I am looking forward to digging in with all of you as we set the stage for St. Luke's next chapter. I am incredibly honored and gratified by all that we have accomplished together and contributed to the wellbeing of our fellow Idahoans and those who come from out of state to seek our services.
Idaho has been my home for the past 10 years and it will remain my home. Lynette and I will continue to live here, near our daughters and grandchildren. I will be following St. Luke's with keen interest, great pride and tremendous excitement as I watch all of you soar to new heights. I plan to be your greatest cheerleader, and I know that you will continue to do great things here at home and to lead as a role model for the rest of the country.
With warm regards and deep appreciation,
David C. Pate, M.D., J.D.
President and Chief Executive Officer
St. Luke's Health System