St. Luke's opens Idaho's first pediatric trauma program
By Alexis Bennett, News and Community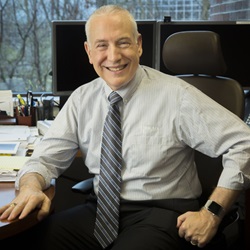 I specialize in internal medicine, the specialty of diagnosing and treating diseases of adults. I learned long ago that children are not little adults. There are many special considerations and differences in the treatment of children, and studies have underscored the many benefits to children and their outcomes when they receive trauma services in a specialized pediatric trauma emergency department rather than in a general or adult trauma unit.
Those are among the reasons that we have established a pediatric trauma service, even though excellent trauma services for adults are provided by Saint Alphonsus Regional Medical Center in our market. St. Luke's Children's Hospital is now the only dedicated pediatric trauma program in the state of Idaho.
Here to tell you more about why and how we did this is St. Luke's Health System Communications Coordinator Alexis Bennett.
- David C. Pate, M.D., J.D.
---
About 12,000 children and young adults under the age of 19 die from unintentional injuries each year, according to the Centers for Disease Control and Prevention. Many of these serious or life-threatening injuries require an all-hands-on-deck approach to care, with the first hour of treatment most critical.
That's why St. Luke's new pediatrics trauma program is so needed. The level II program started in April, and the team has already seen its first patients.
"We're in a special part of the country where we have a large and rapidly growing metropolitan area, but it's very isolated," Dr. Kendra Bowman, a St. Luke's pediatric surgeon and Pediatric Trauma Medical Director, said.
"There isn't another pediatric trauma program for 350 miles or more. We do have great adult trauma centers that treat children, but the outcomes typically are better in a pediatric center because of all of the expertise around care for children."
Four times better, in fact.
A 2015 study compared outcomes of pediatric trauma patients cared for at adult trauma centers and pediatric trauma centers and found mortality rates to be four times lower for children who received care in pediatric facilities.
The difference, Dr. Bowman explained, is in the expertise and resources around the care of injured children, including the size of the equipment, weight-based dosing, pediatric specialties such as rehab, intensive care and surgery, and special protocols for kids' physiology and injury patterns.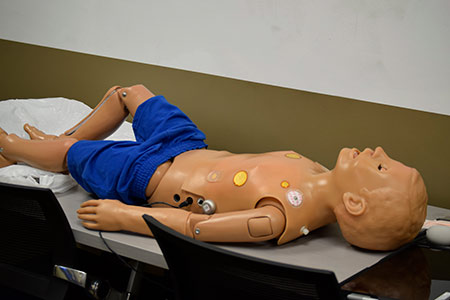 St. Luke's has a culture of doing what's best for kids, beginning with the creation of the children's hospital a mere eight years after the original build. Later introduction of programs such as child life and the hospital school again put kids' needs at the forefront of the hospital's development. The pediatric trauma program is a natural extension of this approach.
"This has been identified several times in the past as the right thing to do, especially as the children's hospital," said Marisa Lunghofer, St. Luke's Boise pediatric trauma program manager.
Research, in-house capability and resources, training and leadership are now aligned to make it possible. The children's hospital is staffed with pediatric sub-specialists and clinicians required for the program and will look to the existing team as the program gains footing.
"It's a program within our existing facility," Children's Services Executive Medical Director Dr. Kathryn Beattie said. The trauma team includes pediatric specialists in general, orthopedic and neurosurgery; anesthesiologists; emergency medicine physicians and nurses; radiologists; critical care specialists; physical, occupational and rehabilitation therapists; and other generalists and specialists.
Preparing for all-hands
The program has been two years in the making, and when it came time for training, St. Luke's wrote the book -- literally.
"We wrote a pediatric training manual because, in looking across the landscape, the trauma training resources that were out there either had one chapter on pediatrics or were integrated into a more adult-focused course," Lunghofer said.
St. Luke's pediatric experts from multiple disciplines contributed to the training materials.
"We recognized that what we needed was a really concise training manual that could be utilized by all members of the trauma team at every level—nurses, respiratory therapists, physicians, anyone who would be coming into contact with a trauma patient," she said. "It was a level-set as to what our training and care expectations would be.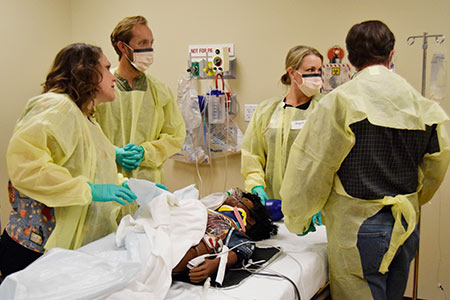 "We did skills labs with various units in the hospital. We did 10 weeks in simulation," Lunghofer said. "There were 60 ER physicians who went through the training, all of our surgeons, our peds anesthesiologists, nursing staff from ED and PICU, our crisis nurses and also our ancillary staff, like our CAP and pharmacists.
"The last phase of training was full-activation drills. These were not announced to our staff."
During live drills, manikins were brought in through emergency medical services, including Air St. Luke's, simulating the transition of care and activation of the trauma team. Teams modeled best practices outlined in the training manuals to build automaticity. This quickly transferred to real-life scenarios when the simulations closely modeled the first trauma cases.
"We have 18 scenarios, some of which have been close to what we actually saw roll into the trauma bay," Dr. Bowman said. "They reflect what you'd expect to see in rural and urban populations."
The simulations and live activations helped team members feel prepared to apply new protocol and processes.
"We had our first couple (trauma activations) and then everybody felt like, 'Oh, OK, I can do this,'" Lunghofer said. "Now that we have a few under our belt, people feel like they were ready and didn't even know it."
The program is scheduled for a trauma center consult with the American College of Surgeons (ACS) in September—a voluntary process that St. Luke's has chosen to participate in as preparation for verification next year. During the consultation, the ACS evaluates the resources, policies, patient care and readiness of the program and suggests improvements.
"It's a huge source of pride in the collaboration of the team to do a lot of work over the period of two years throughout every corner of our institution to make this happen for kids in our state," Dr. Beattie said.
Philanthropy funding totaling nearly 3 million dollars also played an important role in enabling the program's successful start.