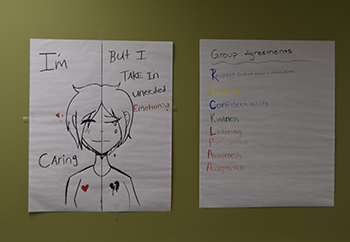 For adolescents in Idaho struggling with serious mental health issues, help has historically been limited to a stay in a psychiatric hospital or counseling sessions with a psychiatrist or therapist.
That changed last year, when St. Luke's Children's Hospital closed the gap with its partial hospitalization program (PHP),
the St. Luke's Children's Day Treatment Center
.
The program is the first of its kind in Idaho and has helped 81 patients ages 12 to 17 facing serious psychiatric issues. Previously, the nearest part-time program was in Utah.
"Our patients are dealing with anxiety, depression, self-harm, past suicide attempts and often a lot of conflict with family," said Connie Sturdavant, director of operations of St. Luke's Children's Center for Neurobehavioral Medicine. "We've had a few kids with different types of psychosis who really needed some grounding."
Instead of being admitted to an inpatient psychiatric hospital or residential treatment facility, sequestered from their families and under 24-hour supervision, patients work with psychiatrists, therapists and teachers during the day and go home in the evenings. This schedule maintains a level of normalcy while family and social dynamics are navigated.
"Going home at night allows them to apply the things they learned that day," Sturdavant said.
Beth Bolen, clinical manager of the program, said conflict within a family is often at the heart of a child's struggle.
"(At home) they still have access to stressors," she said. "They have social media. They have their peers in the community and their families, where in residential treatment you're really isolated from all those things. So, you can be looking like you're doing really good there, but you don't have all the stressors that exacerbate the problem."
Patients aren't the only ones doing the work, though. Families take part through family and multi-family group therapy sessions. Parents are required to participate because effective clinical intervention hinges on their engagement.
A St. Luke's teacher ensures that patients stay on track with school while in the program.
"We can do all this work to change the patient during the day, but if they go home and nothing's changed, it's hard to expect a different outcome," Sturdavant said.
Parents have shared that the family approach works.
"The big plus for our family was being able to have that transition from residential treatment to day treatment before being transferred back to home," one said. "To go from 24/7 care back to outpatient is shocking. It's too big of a transition."
The PHP team cares for 10 adolescents at a time. Routine check-ins with a psychiatrist confirm medications are dosed and prescribed correctly. Patients participate in individual, group, family and music therapy sessions that target behavior and social and emotional health issues.
During the school year, a St. Luke's teacher works with patients' schools to ensure that students stay on track. After 30 days of treatment, St. Luke's care coordinators evaluate patients for discharge.
"If a patient is meeting their treatment plan goals, and they don't need this level of care (anymore), then we are identifying the discharge plan and stepping them down to half-days," Sturdavant said.
Placing adolescents together for care helps to reduce the stigma often associated with mental illness, showing program participants they're not alone in their struggles and recovery. Sturdavant recalled one particularly meaningful exchange between two students in the program.
"A young man said to (another who was graduating), 'You're the big brother I never had. I should be dead right now. I tried three times, and this is the first time in my life that I feel like people really care about me.'"
Another patient's mother shared how her son has continued to benefit from the time he spent with St. Luke's.
"He still goes back to the things he learned from the time he was there," she said. "He's now applying himself. He's gotten a job and is finishing school. He's keeping his mind busy."
For the behavioral health therapists and administrators who launched the program, it's rewarding to see patients' hard work and commitment pay off.
"It's always about instilling hope in families. And that's what we do here. We give people hope again," Sturdavant said.