St. Luke's and partners tackle mental health issues in schools
St. Luke's partners with the Wood River Valley chapter of the National Alliance on Mental Illness, which hosts a bike ride to raise awareness every May.
By Alexis Bennett, News and Community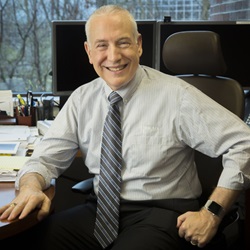 The incidence of childhood and adolescent mental health disorders and suicide is alarming, which is why St. Luke's and community organizations are partnering to tackle this challenging problem together with our area schools.
Here to tell you the steps we are taking and the difference we are making is Alexis Bennett, St. Luke's Health System content and communications coordinator.
- David C. Pate, M.D., J.D.
---
Acting out, taunting and teasing, mood swings and the chance missed homework assignment; all part of growing up.
The occasional bad day is nothing to worry about. But when days turn to weeks and then to months, that's when alarm bells go off.
According to the National Alliance on Mental Illness (NAMI), one in five children ages 13 to 18 have, or will have, a serious mental illness. Depression, anxiety, mood and attention disorders can disrupt school performance, negatively affect relationships and play a causative role in suicide.
In Idaho, suicide is the second leading cause of death for residents ages 15 to 34, positioning the state fifth-highest for suicide rates in the United States. A 2017 Health and Welfare survey of Idaho public and charter high schools showed that 35 percent of students reported experiencing sadness or hopelessness and 21.7 percent reported having had suicidal thoughts.
These troubling trends are identified in St. Luke's Community Health Needs Assessments. The assessments, completed every three years, analyze the primary health-care concerns in St. Luke's service areas. Mental and behavioral health continue to be the top two health concerns.
In recent years, St. Luke's has made this need a priority for programs, services, resources and community funding. This includes expansion of Community Health Improvement Fund (CHIF) grants to not-for-profit partners, such as the Idaho Suicide Prevention Hotline, Advocates Against Family Violence and many other organizations.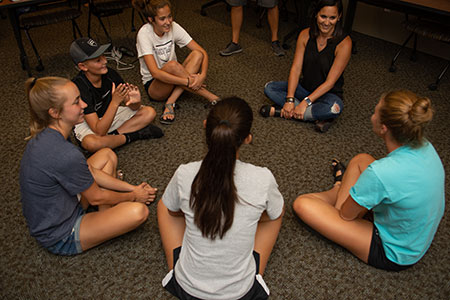 The health system has also increased access and treatment through collaborative and co-managed care, expanded services and service hours at care locations and improved the ratio of available mental health providers. Behavioral health services increasingly also will be provided through virtual care channels.
The wake-up call
In 2017, following tragic suicides in the Wood River community, St. Luke's, the school district and about 20 local organizations and concerned citizens formed the 5B Suicide Prevention Alliance to help with education and prevention.
The alliance's mission around community mental well-being is carried out through such efforts as the "Know the Five Signs" campaign to connect with, reach out to, inspire hope in and offer help to those in need.
"We recognize that Idaho, and Blaine County in particular, struggle with high suicide rates," said Erin Pfaeffle, St. Luke's Wood River director of community engagement.
"The need for prevention and education is significant. The school district and hospital realize we have an opportunity to screen and intervene with school-age children."
In Wood River, education comes through community events, like the recent showing of the movie Resilience; facilitated discussion through panels and educational events; and tight relationships with nonprofit organizations, such as the local NAMI chapter.
The Wood River Valley isn't the only community working to address increasing rates of adolescent mental and behavioral health difficulties.
In the Treasure and Magic valleys, funds provided by St. Luke's CHIF grants are making it possible for the United Way and Terry Reilly Health Services to place services directly in schools.
The organizations place integrated resources in local schools based on need. Terry Reilly, for example, has full-time counselors who meet with students in classrooms designated for the purpose at several Canyon County schools, including Endeavor Elementary.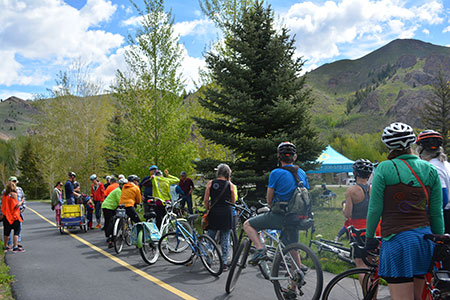 Friends and supporters of NAMI Wood River Valley hit the trail to raise awareness.
Endeavor Elementary School counselor and social worker Trista Jackson said the partnership is making a difference.
"Kids were needing intensive treatment that I couldn't provide as a school counselor," she said. "We can now offer the longer sessions and more intensive treatments you would refer out to, but it's in our building.
"I had kids who've witnessed a bunch of trauma, experienced trauma or were going through intense things at home."
The more trauma or adverse child experiences (ACEs) children encounter before age 18, the higher their risk of developing mental and behavioral health issues and the likelier they are to commit suicide, develop health co-morbidities, experience teen pregnancy and drop out of school.
"Our (Terry Reilly) clinician has been able to do family therapy with people," Jackson said. "It's in a safe zone at the school. She really focuses on the family system.
"I've watched one kiddo in particular do a complete 360."
Including families in the counseling often addresses the source of the trauma or stress. The family gets support and education to help create a healthier home and environment, and kids receive the resources they need to resolve mental illness or behavioral issues.
Magic Valley has begun to adopt the approach.
"We're working on putting therapists in schools," said Trevor Crapo, St. Luke's Magic Valley social/behavioral health manager.
St. Luke's clinicians won't work directly in schools, but will continue to be resources.
"We have clinicians going into schools and partnering with counselors," Crapo said. "We call them wellness committees. We're assisting (schools) in knowing how to navigate the resources we have in the area.
"A lot of time, we'll get crisis calls from the school and we'll let them know where to go for treatment."
Additional efforts are being made in communities in Valley, Payette and Elmore counties. Across the footprint, St. Luke's community health boards of providers, community leaders and concerned citizens have taken up the focus on adverse childhood experiences.
"We're focused on ACEs and building community resilience, which is the strategy to reduce the likelihood of them," Pfaeffle said. "It's about building an individual's and community's resilience to reduce the impact of ACEs. This includes schools, NAMI, the YMCA, St. Luke's, Advocates Against Domestic Violence and other organizations...
"Science tells us that building resilience helps prevent trauma and develop success."