Every May, in honor of National Nurses Week and National Hospital Week, St. Luke's celebrates our employees who do so much everyday to help improve the health of communities.
Employees were invited to share festive meals and each others' company. The barbecues were organized to accommodate both dayshift and night-owl workers.
Chaplains at the Elmore and Jerome hospitals offered special "Blessing of the Hands" ceremonies, a spiritual tradition during Nurses Week that honors the healing power of nursing.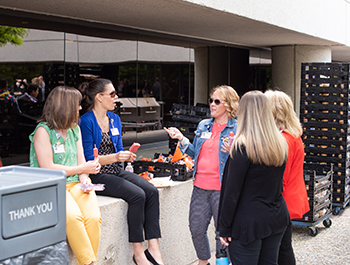 On May 10, the annual Spirit of Nursing Conference was held in Boise and video conferenced around the system. This year's event focused on compassion fatigue and dealing with change. The event featured national speaker Jean Steel and St. Luke's nurse leader Teresa Stanfill.
St. Luke's System Chief Nursing Officer Cy Gearhard paid special acknowledgement to nurses in a public letter. This year, Gearhard's gratitude was even more pronounced, given her family's recent, first-hand experience with so many of our exceptional care providers.