Homegrown wrestling tournament raises money for St. Luke's cancer patients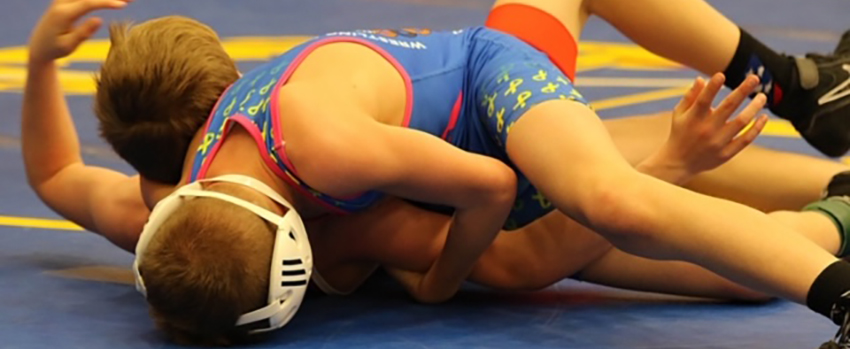 By Alexis Bennett, News and Community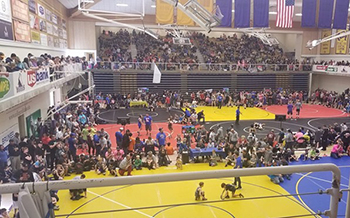 In its third year Cradle for the Cure outgrew its original home at Caldwell High School, moving to The College of Idaho.
In its third year, local wrestling tournament Cradle for the Cure raised $8,250 for St. Luke's cancer center and patients.
Caldwell cougar wrestling coaches Adam Freeman, Steven Bidelman and Juan Peña have one commonality, aside from their passion for wrestling: All three of their mothers were diagnosed with and treated for cancer at St. Luke's cancer centers, all within a similar time period in 2015.
Seeking an outlet for what felt like their helplessness to help their moms, the coaches rallied the best way they knew how.
"Steven and I were in the parking lot of the high school one night and basically said, 'What can we do to make ourselves feel better and help?'" Freeman said. "Steven came up with the idea of running a wrestling tournament in honor of our moms and to raise some money."
The first year, the tournament had 187 participants ages 5 to 15. Three years later, more than 900 wrestlers from nine states competed over St. Patrick's Day weekend, March 16 and 17. The tournament had outgrown its original home at Caldwell High School, moving to The College of Idaho.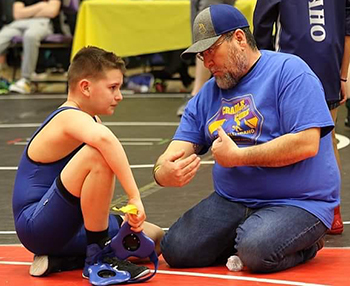 "I think we underestimated just how close to other people's hearts that cause was," Freeman said. "Our wrestling community is really tight. People have come from all over the place to support the tournament. People come with signs, and T-shirts and stories. This year we did slides with stories about why the cause is personal (to participants)."
Tournament singlets are given away as tournament prizes. Each year they're a little different, featuring the color of the year's chosen cancer cause and two cause-ribbon figures wrestling.
"The color for the whole tournament setup changes every year. Whichever ribbon it is that year, is the theme for the entire tournament," Bidelman said. "This year, it was bladder. We do awareness for that."
In the past, the coaches chose to donate proceeds to St. Luke's Thomas Beck Patient Assistance Fund benefiting cancer patients.
The Patient Assistance Fund, made up entirely of donations, provides in-need patients with financial support in the face of medical crisis. For some patients, cost of care can make it difficult to afford every-day essentials. The fund has gifted gas cards, medical supplies, air-conditioning units and even new shoes to families in need.
"I wouldn't have known until my mom got sick that people get gas cards, a ride to chemo or a ride to visit your sick child or parent," Freeman said. "We're really comfortable having money go to something that's so grassroots-level."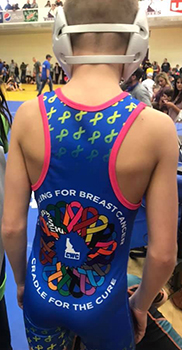 This year's tournament trophy singlets featured yellow, purple and blue ribbons for bladder cancer.
This year, money raised will contribute to the St. Luke's Nampa's cancer center construction goal.
Coach Juan Peña, whose mom received treatment at St. Luke's Nampa cancer center following three different cancer diagnoses, is happy to see the sunset of the Hawaii Street location.
"She would come here and sit, probably in these same chairs," Peña said. "She loved to go to the park afterwards, go work out when she was ready to work out. To have all of that there (at the new facility) after a chemo session, instead of just having patients waiting outside … they can go sit in the garden. My mom would love that stuff. I think patients would feel more at home."
As the event continues, the coaches plan to use its success as an opportunity to reach more people for educational outreach, not just awareness and fundraising.
"I feel like I should do more," Bidelman said. "I'm proud of the wrestling community. That so many people have rallied around this cause."
Reducing the burden for patients
Patient assistance helps ease the burden for patients and families in the face of medical crisis.
Learn more about St. Luke's Patient Assistance Fund, or contact the St. Luke's foundation at [email protected] or 208-381-2123.