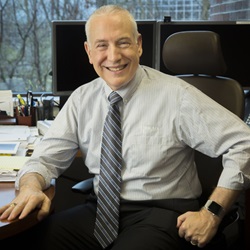 At St. Luke's, we are very fortunate to have amazing physician leaders. One of those leaders is Dr. Trevor Satterfield, a St. Luke's Clinic family medicine physician in Twin Falls who also serves as our associate chief medical information officer.
Dr. Satterfield has taken National Doctors Day, to be observed March 30, as an opportunity to write an open letter to St. Luke's patients to highlight the unique relationship physicians have with patients, changes physicians and patients alike are experiencing and the benefit of those changes into the future.
- David C. Pate, M.D., J.D.
---
Trevor Satterfield, M.D.
As a physician, it is incredibly humbling to be involved in some of the most difficult, intimate and tragic moments experienced by patients.
In reality, "patients" are our friends and close acquaintances. And in a community like the Magic Valley, we consider everyone our neighbor. These relationships make the difficult moments of illness or injury more emotionally impactful.
Each physician in our community has been motivated throughout his or her training and career to help those with health-related issues. This motivation is amplified when a patient is in pain and in need of hope.
Our abilities to help can be complicated by third-party payer systems, physician shortages, skyrocketing costs and radical changes in how all of these elements interact. Never before has health care had so much to offer to relieve human suffering – and never before has health care been so difficult to navigate, whether you are a patient or a physician.
One factor that is both a blessing and a challenge is technology. Health-care providers and facilities in our communities continue to invest in and adopt new and improved technology solutions, bringing changes to the care experience. While beneficial, these changes generate disruption that can result in frustration, missed opportunities and sometimes mistakes. On top of the actual cost of the technology, these disruptions place a burden on the delivery of health care.
Perhaps we can take comfort in the fact that we are not alone in this disruption. In a November article in The New Yorker titled "Why Doctors Hate Their Computers," Dr. Atul Gawande noted that "More than 90 percent of American hospitals have been computerized during the past decade, and more than half of Americans have their health information in the Epic system." He was referring to the company that developed the electronic health records system used by St. Luke's and dozens of hospitals and health systems across the country.
Gawande, a surgeon and public health expert, went on to explain that the consequences of this change to clinicians include lost patient-care time as a physician learns to navigate computer systems; increased time spent documenting patient-care visits; and challenges sifting through mountains of computer-generated data to determine what is relevant.
Examples of disruption like this could go on and on, but I am optimistic that the future holds the benefits we are seeking and that we will find the right balance. Progress will continue to be made. Physician passion will not allow otherwise, and patient demand will not settle for less, nor should it.
I believe that as time goes on, Southern Idaho patients will continue to see more of these benefits. The patient experience will be simplified and more streamlined, with technology playing an increasingly beneficial role. Physicians and other clinicians will see an easing of the documentation burden that it has created. Changes in regulations will provide for easier interaction between health-care providers and decreased billing burdens.
As we begin to see those enhanced benefits, the unique contribution made by the highly skilled doctors of Southern Idaho will prove to be of immense and steadily increasing value to the businesses and families that make this a wonderful place to live. And as a family medicine doctor, it is humbling to be invited into those sacred circles.
In honor of National Doctors Day on March 30, and on behalf of my fellow physicians, I would like to thank the people we care so much about.