Thanks to a sweet annual tradition at one Central Idaho school, several young patients at St. Luke's Wood River will receive special pals to help them heal.
For several years, Bellevue Elementary students have been buying dozens of stuffed bears to give to other children who may benefit from the gift of a cuddly friend.
"We live in a small community that takes care of each other," said Bellevue Elementary Librarian Patti Gilman. "Sometimes a child needs comfort, but it can be tough to ask for. We strive to teach the students about caring for others in the community, regardless of whether we know them or not."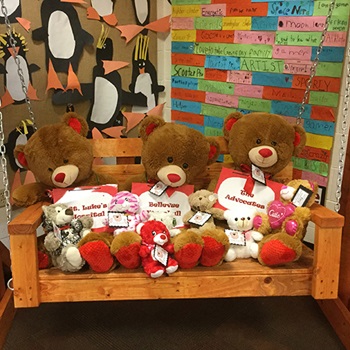 The Bellevue students help purchase the bears with their own money earned through chores.
The kids name the bears, and each teddy then gets a laminated "bear hug" card, like this:
From the BEST
(Bellevue Elementary Students & Teachers)
Your bear's name is:
The Rock
We hope it brings you comfort, knowing you have friends who care.
A school-wide celebration helps send the bears out into the community in style. (Fittingly, the project also ties into school spirit: The elementary is proudly the home of the Bellevue Bears.)
In addition to St. Luke's Wood River, the Bellevue Marshal's Office and the Advocates for Survivors of Domestic Violence have been entrusted by the Bellevue students this year to pass the bears along to children in need of a special "bear hug."