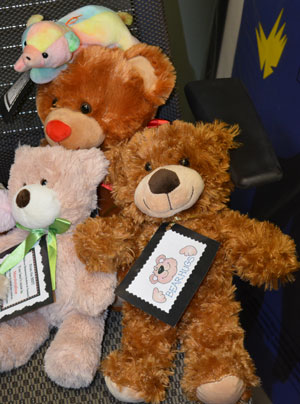 Every year students and teachers from Bellevue Elementary collect teddy bears to donate to local organizations, where they are were entrusted to pass along the bears and their hugs to children in need of a soft, cuddly friend.
This year the recipients are The Advocates for Survivors of Domestic Violence, Higher Ground and St. Luke's Wood River.
Each student chooses a teddy bear, gives it a name and attaches a laminated "bear hug" card. A note attached to each adorable bear tells the child:
"From the BEST
(Bellevue Elementary Students & Teachers)
Your bear's name is: __________
We hope it brings you comfort, knowing you have friends who care."
Patti Gilman, Bellevue Elementary librarian, explained that the Bear Hug program teaches students about caring for other kids in the community. Living in a small community can be tough, she said, but it also has benefits because everyone tends to take care of each other. No doubt these bears will warm the hearts of the children who receive them!