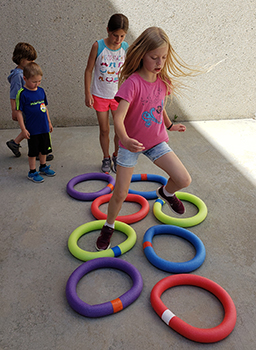 Wednesday was the start of a sprint to the finish for Eric Stride and his St. Luke's team.
Stride is the executive director of FitOne, the annual running and walking event that will take place Sept. 28 in Boise.
June 5 was National Running Day, and FitOne celebrated with family-friendly events at Axiom Fitness locations in Boise and Meridian to help 5K, 10K and half marathon participants get a jump on registration. By the end of the day, 10,252 runners were registered—the most ever!
The FitOne staff kept kids occupied and active with a fitness course, a photo booth setting and more. Adults were encouraged to walk around, learn about FitOne and sign up for one of many raffles.
"It's the official kickoff of the season for us," Stride said. "We kind of plan for this day, and race day, year-round. Our season ramps up from here."
On National Running Day, entrants were able to sign up for the FitOne event for only $20. As an added bonus, for every registration, Axiom donated $1 to St. Luke's Children's Hospital.
The discounted $20 entrance fee helped motivate Donna Savage to sign up for her third race; she also took part when the event was known as the Women's Fitness Celebration.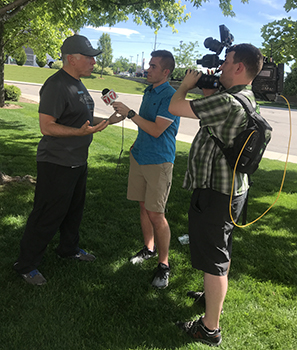 St. Luke's Health System President and CEO Dr. Pate met with media at FitOne's event at the Meridian Axiom location.
"The (price) is a nice benefit of signing up, and (National Running Day) brings families together," Savage said. "It's for a good cause, so we're excited to do it."
Though this is Savage's third year participating in the St. Luke's event, it will be a first for her husband, Steve.
"My wife signs me up for these things to try to keep me in shape," he said. "It's good to sign up now because it motivates us to go out and run."
Stride couldn't be happier about that motivation.
"It's just an awesome day," he said. "It really energizes our team and it's great to see people get excited.
"We can't wait. It's full speed ahead for us."