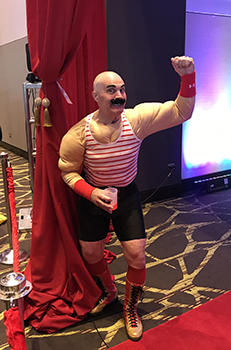 For the chance to see bearded ladies and ax-throwing clowns, the place to be on Friday, June 7, was the Boise Centre, for St. Luke's Children's largest annual fundraising event, Kid for A Night.

This year's theme, "The Greatest Show," brought out 830 adult cotton-candy lovers in their favorite circus costumes—or circus-goer attire—to have kid-style fun and raise money for pediatric care.

Circus music looped as attendees posed in photobooths, raced on inflatable courses – and raised $584,897 for St. Luke's Children's, the most in event history.

"It was really fun!" said Leslie Gorman, associate marketing manager at Lamb Weston and first-time Kid for A Night attendee. "I've never had such a good time at a fundraising event, and it's for a good cause, which makes it that much sweeter."

Kid for a Night might put the fun in fundraising, but the generosity of this year's 59 event sponsors, 60 volunteers and countless donors was serious.

In mere minutes the text-to-give feature alone raised $67,000, including a $25,000 anonymous donor match. In addition to a silent auction, stuffed "Miracle Bears" dressed as circus performers were also auctioned off at the event. The 64 toys were delivered to children receiving care at the hospital.
"When you walk into the room and see their eyes light up and get so excited to get this special bear, it's pretty special," said Holly Haener, director of sales and marketing at event-sponsor CBH Homes, who helped deliver bears to kids on June 13. "I hope it brings a little joy to their day."

Delivering the bears carried special meaning for Haener, whose own daughter was treated at St. Luke's Children's when she was born three months prematurely.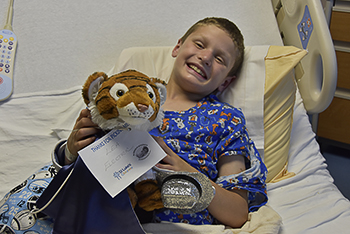 A St. Luke's Children's patient is all grins with his tiger from Kid for A Night.
"Parents feel the impact of the community (with these gifts)," she said. "(They feel) the support for them and their children and all of the people here who help make it possible for them to get better and go home."
Since its inception in 1992, Kid for A Night has raised more than $9 million for St. Luke's Children's.
This year's contributions will support the St. Luke's Children's pediatric trauma program, as well as medical staff education and kids' programs, such as Child Life.
How to help
St. Luke's Health Foundation welcomes gifts of funds and stuffed animal donations all year. To find out how to contribute or get involved, contact St. Luke's Health Foundation at 208-381-2123 or [email protected].
Learn more about St. Luke's Children's and programs.