St. Luke's providers, students travel to Honduras for outreach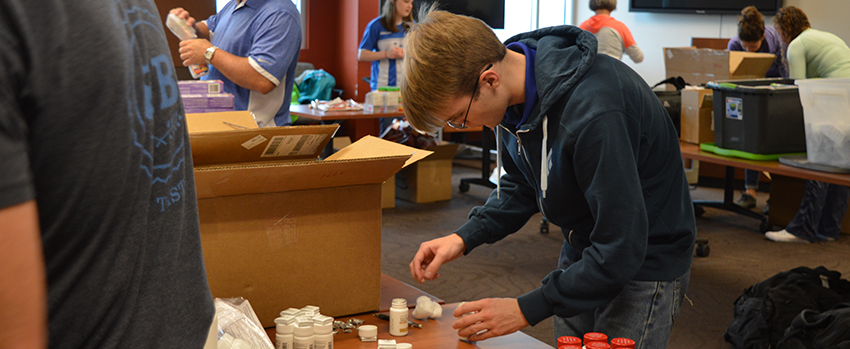 By Alexis Bennett, News and Community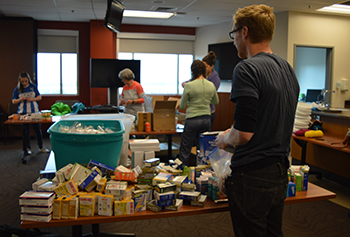 In some parts of the world, where health and survival are a matter of daily concern, the stakes for accessing quality medical care are high. In countries like Honduras, 66 percent of the population lives in poverty according to 2017 data from The World Bank Organization. This, combined with a shortage of qualified physicians, make health care a national crisis in the country.
That's why, for nearly 18 years St. Luke's employees and community philanthropists have traveled to Honduras and other countries, treating hundreds of patients daily in pop-up clinics at schools and churches in remote areas. This year, 27 volunteers spent a day preparing 1,300 pounds of donated medications, medical equipment and everyday essentials in preparation for an upcoming trip.
This summer's team departs June 6 and is composed of St. Luke's providers, medical professionals, community members and students. They'll be based out of Morazán, Honduras, and will relocate for day trips to more remote areas each of the 10 days.
Interest in these trips has grown over the years, and in 2015 Faith and Humanity Medical Missions was created by St. Luke's Health Partners' Jonathan Schott. A Treasure Valley team was established later by St. Luke's Boise Hospital Chief Operating Officer David Bishop.
St. Luke's works to fulfill its mission to improve the health of the community through resources, quality care providers, programs, funding and care coordination. These medical missions are an extension of these efforts.
High blood pressure and diabetes medications, inhalers, antibiotic ointment, anti-diarrheals, bandages, antacids, pregnancy tests, toothpaste and toothbrushes were unpacked, consolidated and repacked to ensure they'd fit in duffel bags. Deflated soccer balls, gifts for local kids who regularly play pick-up games of soccer, filled another entire bag.
Providers supply expertise, working with local physicians and translators to treat patients. This year, eight student volunteers are joining the team to help with intake, triage and low-level medical support, taking vitals and charting patient information.
Along with the desire to gain travel and life experience, many of the student volunteers are interested in medicine. This is their opportunity to work elbow-to-elbow with knowledgeable providers before they graduate and pursue medical careers themselves.
Five of these students have volunteered to be on the on-the-ground correspondents, reporting from Honduras about their experiences, interactions and what they learn along the way.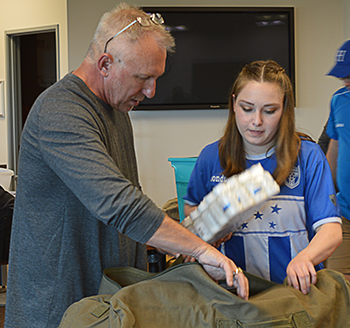 Sydney Bishop
Bishop recently received her CNA certificate from the College of Western Idaho and now works as a CNA at St. Luke's Meridian telehealth. This is her fourth trip to Honduras.
"I started going when I was in high school," she said. "It really got me into the medical field. It pushed me to go to school.
"(This trip) I'll be able to do more work down there. I'll actually be doing patient care this time. In the past … I was doing things like running meds to patients, entertaining kids. I'll actually be able to do patient care, take vital signs, triage…
"The cool thing about having physicians is that they know what they're doing and they're willing to help people who are still in school learn."
Bishop plans to go to nursing school and continue to participate in outreach trips.
"It's been a really fun experience and I enjoy going," she said.
Garrett Tisdale
Tisdale is a physics major at Boise State University. His program is pre-med focused, but his primary passion is research. Becoming a research physician is his ultimate goal.
The past two summers he's completed internships in Washington, D.C., with the National Institute of Health. Looking for something different, and a taste of international travel, Tisdale volunteered for this year's trip.
"It's going to be good exposure to see how different people live in different economic situations and to see how medicine is affected in those different regions," Tisdale said. "Hopefully, I can learn something from that and figure out socioeconomically, where does science fit into that and into medicine in general."

Meredith Fehringer
Fehringer has been with St. Luke's for eight years, working as an analyst in the Integrated Health Technologies (IHT) department. Over time, she realized working in the hospital and treating people is what she really wanted to do.
She returned to school to complete pre-requisites as a non-traditional student and aims to complete her degree fall semester of 2021, if not sooner.
After learning about the Honduras opportunity from David Bishop she asked for advice from her mom, a licensed clinical social worker.
"This kind of work is something I have always had a strong desire for," she said.
When she pitched the idea to her mom Eileen Ganong, a licensed clinical social worker (LCSW), she decided to join. Now, the duo will travel together.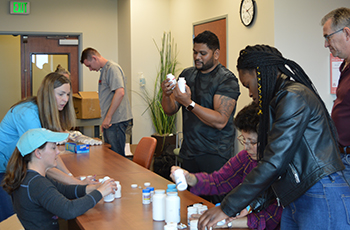 Elvine Chinadalire and a group of volunteers consolidate medications to make them more portable.
Xavier Christy
Christy is the youngest volunteer in the group, at 16. He's a sophomore at Meridian Medical Arts Charter School, a high school that prepares students for a pre-med post-secondary route. Other members of his family also are going on the trip.
"I really wanted to go because I wanted to experience more medical stuff," he said. "I'm most excited about learning the interactions between providers and patients—the one-on-one to see how all of that works. I really look forward to working together with everyone."
Along with shadowing St. Luke's providers, he'll be able to help with triage and intake.
"I'm excited to do anything," he said. "During our freshman year, Meridian Medical had us practice basic patient stuff like checking vitals, so maybe I'll be able to practice that down there, too."
Elvine Chinadalire
Chinadalire is a global studies and international relations major at Boise State University, minoring in refugee studies.
When she arrived in Boise at age 13 from Democratic Republic of Congo, her family's first local resource and contact was St. Luke's Boise cardiology physician Dr. Stefanie Fry.
Dr. Fry traveled to Honduras that year, and Chinadalire was assured that she could go as soon as she gained citizenship.
Five years later, passport in hand, she contacted Dr. Fry.
"I don't want to put my hopes up, but hearing about people who've gone there, and their experiences changing the community, working in those poorer cities, I'm just excited to learn … (and find out if) this is something I want to do in the future," she said.
"I have a friend from Honduras who's an immigrant from that city," she said. "She sent me an email and said, 'Thank you for going to my city and helping my people.' It made me feel like a hero. I think I will learn a lot."
She explains that without Dr. Fry and the opportunities she's had, she wouldn't be able to go on this trip.
"Somebody helped me to be here," she said. "I feel like I have to pay (it) back."