St. Luke's Team Travels to Honduras for Medical Mission
By Chereen Langrill, News and Community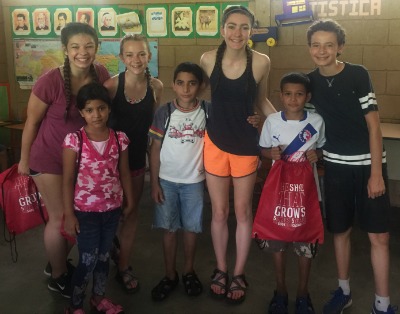 A team from St. Luke's traveled to Honduras in early June to provide medical care for people who would otherwise not have access to care or supplies.
Moving from one community to the next, the team helped hundreds of patients each day. At many communities, people were already lined up to receive care when the team arrived.
Each year St. Luke's team members take vacation days not to lounge poolside, but instead to spend seven days helping people in Honduras. Many bring along friends and family, and this year's team included 16-year-old Sophia McGregor and 14-year-old Isabel McGregor, daughters of Traci McGregor, St. Luke's Boise emergency department director.
Sophia and Isabel served as remote correspondents during the medical mission, sharing photos and reports throughout the week via St. Luke's Facebook page. Here are some highlights: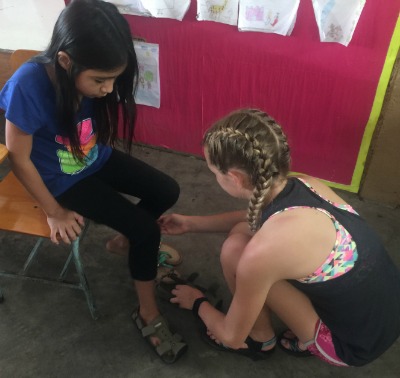 Isabel: Today we drove 90 minutes up a mountain side to a remote village to set up clinic. The road was steep and at one point we passed a big truck. We were going slow and came within about 1/2 inch of each other. All of us on the bus were holding our breath! When we got to the top the locals were lined up at the school waiting. We saw a lot of sick patients and those with disabilities. We treated a woman that had a huge goiter! Harry, one of the boys helping at the clinic, became ill today. My mom started an IV on him and gave him fluids. The kids followed us around asking for balls, shoes and clothing. We gave them fake tattoos and showed them Snapchat on our phones. They laughed when they saw their faces with ears or silly glasses filters. We were all tired by the end of clinic. We drove to Trinidad for dinner. We tried some street food too. We have been pleasantly surprised with the food. After dinner my sister, mom, Dr. Priest and myself stopped in little store for an ice cream bar. It was delicious.
Sophia: We started our day with breakfast and then headed out. The drive was crazy, we had to drive up the mountain in order to get to our destination. As we were driving, the bus would occasionally back up in order to get a running start at the incline ahead. Even though the drive was not as smooth as the others the view was incredible. After an hour and a half we finally arrived. The clinic was much more chaotic than the two before. There were so many people! Keeping them contained was a little more difficult than before. In this little town, there were a lot of people with scabies and lice. Our group made sure to do our best to prevent getting either of the two. Savanna, Kristie, and I even corn rowed our hair! The things that are seen at the clinic definitely make you think twice about how lucky we are. I feel very blessed and am eager to continue serving those in need.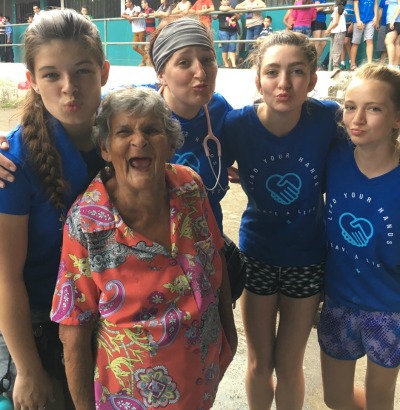 Isabel: Today we didn't have to drive as far as yesterday. Where we stopped had a big open area that kids played soccer. We began giving out shoes to children in the clinic. The shoes were able to grow five sizes as the children grew. We gave away several pairs of shoes, and the kids were very excited and grateful to receive them. We brought shampoo, conditioner, and lotion that people donated from hotels. We taught the kids how to say shampoo and handed out all the bathroom supplies. I also had the opportunity to play with the children. We played a game they called que colores. One person would whisper a color into each person's ear while another person tried to guess the color. If they would guess the correct color the person guessing would chase after you. They also taught me a game similar to patty cake. The school yard was not very clean and covered with trash. Traci, Bridgette and a few children who attended the school help clean up the trash. Then we gave the kids that helped tidy up St. Luke's bags. They loved them. A local farmer near the clinic gave people lemons from some of his trees. After clinic and dinner those whose chose to could tour the hospital in Santa Barbara. The hospital was nothing like what we have in the US. There was no separate rooms for people to stay in. There was usually just one large room with several stretchers for people to lay on. Two women were even sharing a stretcher. An 8 year old girl who had come to our clinic on the second day was in the hospital. She was unable to swallow food which caused her to be very small and frail. We collected money to buy her special formula, and gave the extra money to her mom to buy her food. We are very grateful to live in a community that has a hospital like St. Luke's!
Sophia: We spent our last days visiting Punta Sal and Cayos Cochinos. Both were extremely beautiful. We got to snorkel, hike, cliff jump, and relax on a remote beach. Lunch both of these days consisted of a whole fish, rice and beans, and dried plantains. The fish was a little difficult to eat, but by the second day we felt like pros. Yesterday after getting back from the excursion, we decided to walk into town and check out the stands the locals had set up. We decided very quickly that it would be best to head back to the resort and hang out there. We packed up and got ready for our flight this morning.
I can't wait to share my wonderful experience with my family and friends. This trip was truly amazing, and I hope to return next year.