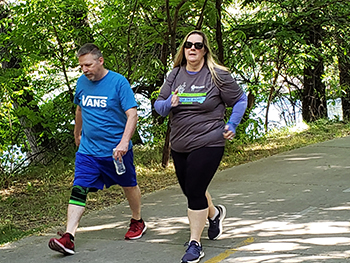 For the fifth year, St. Luke's Fit for the Road Reunion has given dozens of people with some of life's toughest health challenges a chance to celebrate their successes.
On Thursday, June 20, Terry Cundiff was one of the celebrants, joining 85 other participants and supporters for a short walk and a meal. The annual event brings together patients who have undergone or may be continuing treatment through St. Luke's cancer center, cardiac, orthopedics and joint replacement, bariatrics or neurology.
Cundiff took part in this year's Fit for the Road Reunion at Kristin Armstrong Municipal Park in a state he's relatively unaccustomed to: pain-free.
"Over the years, I tore my body up," he said. "I grew up running the hills of Colorado. I've ridden bulls, I've ridden motocross, motorcycles."
His career wasn't any easier on his body than his recreational habits.
"I've hauled trusses. I went to work for a roofing company and became a crane operator," Cundiff said. "I got up on the roof and started learning how to roof.
"About 2006, I fell 27 feet off a roof and compound fractured my fibula and my tibia and shattered my ankle."
After a long rehab, those injuries healed. The discomfort lingered.
"It was getting harder and harder with my hip," Cundiff said. "It was bone on bone, and it got to the point where I couldn't walk. Well, I could, but not without a great amount of pain."
He realized he was a perfect candidate for hip-replacement surgery and had the operation in January of 2016.
"I was feeling better the day after the surgery than I had felt for years prior," he said. "I felt like I was capable of going back to work after a week."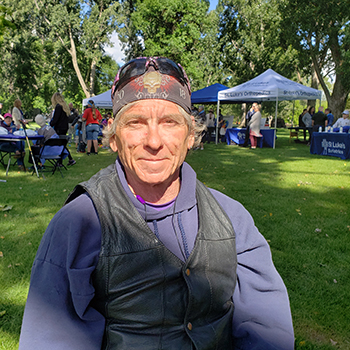 Cundiff at the Fit for the Road Reunion.
His doctor, St. Luke's orthopedic surgeon Jared Armstrong, erred on the side of caution. Cundiff returned to work after two weeks.
"I could hardly do the job before my hip replacement, but after my hip replacement, I had no problem," he said.
Dr. Armstrong said Cundiff's recovery time was impressive, but not unheard of.
"Everybody's experience is different," he said. "He did very well, and there are certainly other patients like him who have done very well and recovered very quickly."
Since his surgery, Cundiff has become an advocate of sorts.
"I feel like if there's anyone considering this, I want to help them realize that it was a good thing for me," he said. "My quality of life is just so much better now."
It was a message he shared as he addressed the Fit for the Road Reunion gathering.
"It was the best thing I've ever done. I should have done it years prior," Cundiff said, before applauding Dr. Armstrong and his local colleagues. "I think we have some of the best doctors in the world right here in the Treasure Valley."