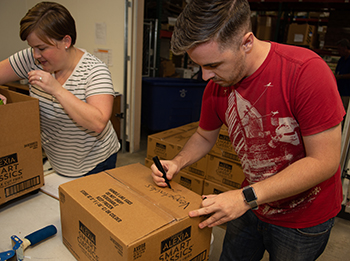 Jimmy Hallyburton grew up riding a bicycle on the streets of northwest Boise, and he says it helped connect him to the community.
"I remember riding out of that dirt driveway for the first time, and turning onto the paved road, and feeling like my entire world had expanded," he said. "All of a sudden, I wasn't contained in this front yard anymore.
"I had the entire universe in front of me."
For Hallyburton, there's a certain feeling that's often associated with riding a bicycle as a child—freedom. He wants every kid to have that same feeling. For the past decade, he's worked to make that happen as the executive director and co-founder of the Boise Bicycle Project.
The Boise Bicycle Project was one of about 90 organizations across the greater Treasure Valley that received Community Health Improvement Fund (CHIF) grants from St. Luke's this year. The grants totaled more than $600,000; St. Luke's invested an additional $290,000 in grants in the Magic Valley.
"We started a new collaboration partnership with St. Luke's to increase the number of bicycles that we're donating to kids," Hallyburton said.
"For the very first time this year, we will donate over 1,000 bicycles to children in one year. These are children from all around the world, all types of backgrounds, children who have experienced things that we can't possibly imagine, and these bicycles really will be the thing that connect them to the community."
St. Luke's celebrated the Boise Bicycle Project and many other grant recipients at the fifth annual CHIF grant luncheon, held at JUMP in downtown Boise on June 27. More than 100 people attended.
"I was so impressed to see a room full of game-changers in our communities," said Theresa McLeod, senior director of community engagement at St. Luke's. "It's inspiring to hear from these organizations, to learn about the positive impact they are making, to build relationships and make connections."
Representatives from the Boise Bicycle Project, the Idaho Foodbank, Canyon County Paramedics and CATCH presented on how they are using the grants.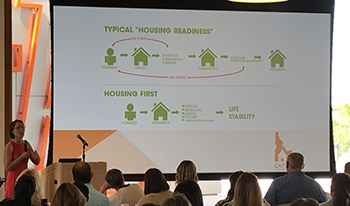 The Idaho Foodbank is hosting forums with partners across southern Idaho to address hunger and increase its collective focus on community health. Paramedics in Canyon County are conducting community health outreach to decrease frequent and often unnecessary interactions with emergency services. The team at CATCH is working to end homelessness through a collaborative approach to 'rapid rehousing' of vulnerable individuals and families.
In addition to the nonprofit presentations, Erin Pfaeffle, director of community engagement at St. Luke's Wood River, presented from "Know the Five Signs," a suicide prevention program of the Campaign to Change Direction.
The five signs include personality changes, agitation, withdrawal, poor self-care and hopelessness.
Suicide and mental health issues were identified as significant health needs in St. Luke's most recent Community Health Needs Assessments.
"Communities are doing more and more work around access to mental health services," Pfaeffle said. "We know that most mental health issues are treatable, and early intervention can have a significant impact on treatment."
Members of the St. Luke's Treasure Valley Community Board also surprised McLeod with a bouquet of flowers to honor her work in the community.