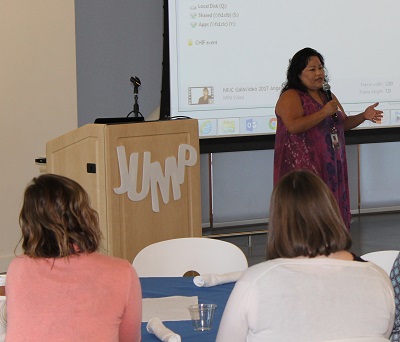 From Family Advocates to the Idaho Foodbank, a wide array of local nonprofit organizations were represented at St. Luke's fourth annual Community Health Improvement Fund (CHIF) grant recipient celebration.
Nearly 85 people representing more than 50 organizations attended the event held recently at JUMP in downtown Boise. St. Luke's hosts the celebration each summer to highlight the work and progress each organization has made with CHIF grant funds.
In January, St. Luke's awarded nearly $600,000 in CHIF grants to approximately 90 organizations that align with the health system's mission of "improving the health of people in the communities we serve."
Special priority was given to local organizations that are addressing the significant health needs St. Luke's identified in its 2016 Community Health Needs Assessment. Those needs include addressing obesity and diabetes, reducing suicide and mental health issues, and increasing access to affordable, quality health care.
The grant applications were reviewed by the St. Luke's Treasure Valley Community Board, which features hospital staff and community volunteers.
St. Luke's Boise site administrator Dave McFadyen welcomed the event attendees, sharing a personal story of serving on the board of directors for the Boys & Girls Club of Ada County, a CHIF recipient, and seeing firsthand how local organizations are improving the health of so many.
The event featured presentations from several organizations that received CHIF grants, including the Treasure Valley Family YMCA, the Nampa Family Justice Center, the City of Mountain Home Parks and Recreation department, the Women's and Children's Alliance and the Children's Home Society.
A presentation on the Boise State Dance Marathon, led by a pair of college students and a recent graduate, highlighted the growth of the cause and event over the past six years. In 2012, Boise State students raised more than $5,000 for St. Luke's Children's, as a Children's Miracle Network Hospital. This year, more than $200,000 was raised.
"It is inspiring to experience the positive impact of passionate, organized, business-savvy, community-minded college students," said Theresa McLeod, St. Luke's director of community engagement. "Each year, they develop new strategies to reach more people, set fundraising goals and rally classmates and local businesses. They pour their hearts and energy into helping children receiving treatment."
Lyle Nelson, community health administrator at St. Luke's, also presented to attendees, enthusiastically sharing his passion for serving others and collaborating with local organizations to improve the health of communities across Idaho.
"I am in a room full of giants," Nelson said, recognizing the contributions of those dedicated to helping others and advancing the missions of innovative nonprofit organizations.
Nelson, a longtime St. Luke's employee and four-time Olympian, shared a quote from Margaret Mead: "Never doubt that a small group of thoughtful, committed citizens can change the world; indeed, it's the only thing that ever has."
"We don't have to change the world," Nelson said. "We are just going to change our communities."