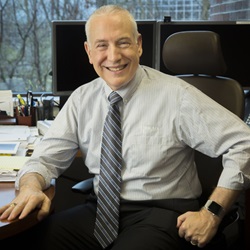 Voter-approved Medicaid expansion will go into effect Jan. 1, 2020, creating a huge opportunity for Idaho's working poor who have fallen into the gap between who the state covers through its Medicaid program and who is eligible for insurance subsidies through the federal Accountable Care Act insurance exchanges.
It also means that health-care providers need to prepare for the large number of newly insured people. Here with a report on St. Luke's preparations is Alexis Bennett, St. Luke's content and communications coordinator.
- David C. Pate, M.D., J.D.
---
What happens when thousands of new patients seek health care?
St. Luke's Health System is preparing for just that – but the preparations have been building for years.
The Idaho Department of Health and Welfare projects that starting next year, 91,000 men, women and children will be newly eligible for Medicaid coverage, the result of voter expansion of the care safety net for some of the most needy and vulnerable members of the community – many of whom may also be the most complex patients. Given enrollment trends, that state believes as many as 70,000, many of them in Ada, Canyon and other counties served by St. Luke's, could seek care as early as January.
The change is expected to cause a whole host of ripple effects for patients and the health system, having to do with access to physicians and other providers, condition management over time, use of St. Luke's emergency departments and much, much more.
St. Luke's has been readying for years, however. Not necessarily because health system planners anticipated Medicaid expansion, but because they've known that course corrections toward a model that focuses on the value of health services was the right thing to do.
When the federal Affordable Care Act (ACA) was upheld in 2012, the decision gave states the option to opt out of Medicaid expansion. Idaho was one of more than a dozen states to opt out.
But in November of 2018, Idaho voters passed Proposition 2, altering the qualifications for Medicaid coverage and extending it to individuals and families with incomes up to 138 percent of the federal poverty line.
Previously, only children and mothers were typically eligible, leaving a gap of uninsured people. Those considered "too poor" for ACA coverage through the exchange and "too rich" for Medicaid typically went without insurance.
The Medicaid expansion, planned for rollout in Idaho on Jan. 1, 2020, will begin to close this gap.
Managing pent-up need
St. Luke's has been actively preparing for the influx of patients, operating under two assumptions: First, that these patients will access more preventive services and more health-care services generally and two, that St. Luke's will assume a disproportionate share of this increased patient population because, unlike many private practices, it accepts all payers.
"Medicaid expansion will reduce the number of uninsured and increase the number of insured," said Dr. Laura McGeorge, St. Luke's Health System medical director for primary and specialty care. "Those people will now be insured through Medicaid."
Dr. McGeorge and others believe these patients now will be more likely to seek health-care services such as primary care for preventive, chronic and/or emergent conditions such as diabetes, hypertension, behavioral health issues, chronic pain and annual screenings, whereas before they'd have held off until an emergency.
"There are people who access EDs only, or they use other services, whereas they may be likely to come into St. Luke's clinics if they have insurance," Dr. McGeorge said.
Idaho continues to grow and has experienced ongoing challenges attracting and retaining sufficient health-care providers to support the population no matter the size, so this is not the first time St. Luke's has needed to consider how it will handle more patients. But updating and improving programs, services and the payment model itself has been under way for the last decade; St. Luke's has more than a running start on a demographic change of this magnitude.
"Medicaid expansion is only one part in a larger population health challenge we face," St. Luke's Chief Medical Officer Dr. Jim Souza said. "We're working on primary care redesign to try to get ahead of the issues that we'll face as part of Medicaid expansion and also population growth."
Along with a common electronic health records system, innovations in clinics meant to ease the pressure on St. Luke's emergency rooms and other care settings and the availability of online scheduling, recently introduced to make it easier for patients to self-serve in booking their own appointments, there have been multiple other changes meant to make it easier for patients to schedule an appointment with a family medicine or primary care provider.
"We are doing more team-based care where a physician will be responsible for a panel of patients in primary care," Dr. McGeorge said. "Depending on the size and complexity of the panel, they are likely to have a nurse practitioner (NP) or a physician's assistant (PA) as a partner in taking care of those patients."
St. Luke's effort to build out primary care helps both patients and the organization. Because these newly insured Medicaid patients will no longer have to use the emergency room as their "doctor," EDs will be freed up. Patients also could begin to experience the sort of quality long-term care that comes from collaboration with a single provider.
A proactive approach
St. Luke's has been positioning in other ways that will serve these new patients as well.
Often those who qualify for Medicaid face challenging social determinants of health. They may have trouble with transportation, food access and resource issues, education and behavioral health and social support challenges.
St. Luke's recognizes that even with the best medical support, patients find it difficult to be successful without adequate services. The health system collaborates with not-for-profit partners, identifying needs through Community Health Needs Assessment studies and supporting organizations with Community Health Improvement Fund grants, to try to get at root causes and tackle some of the thorny social determinants.
It's also becoming more common to find licensed clinical social workers (LCSW) on teams throughout the system. LCSWs help medical teams identify and connect at-risk patients to additional resources.
There are currently seven primary care clinics with designated social workers, and the number is projected to increase in 2020.
"We've already decided that it won't be OK to send a patient with no car out to a place where they can't have access to food or get to a medical clinic," Dr. Souza said.
St. Luke's is incentivized to coordinate care and manage patients' chronic and complex health issues through Medicare Advantage and accountable care arrangements. The patients covered by Medicaid as a result of the expansion will also be in accountable care-type arrangements instead of the more traditional and historical fee-for-service arrangements.
Through St. Luke's Health Partners, providers are incentivized to focus on quality care that will ensure patients don't need to be readmitted or return to the emergency room. To this end, an army of nurse navigators, care coordinators and clinics have at their disposal multiple resources, including virtual care telehealth services; clinical float days, wherein pharmacists, behavioral health specialists and oncologists visit remote areas once or twice weekly to meet with patients; and post-discharge follow-up call procedures.
"We're seeing those people today, but we'd be managing their care differently (if they had Medicaid)," said Dave Self, chief administrative officer for St. Luke's Health Partners.
"We'd actively manage their care."
To learn more
Listen to Gemma Gaudette's "Idaho Matters" interview with St. Luke's Health System President and CEO Dr. David Pate at https://www.boisestatepublicradio.org/post/idaho-health-care-providers-prepare-medicaid-expansion