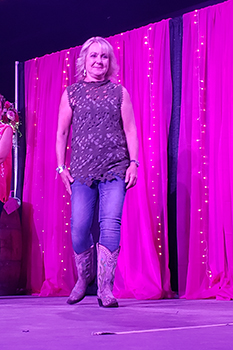 For the hundreds of breast health supporters gathered recently at the Ford Idaho Center, the dirt comes with the territory.
Nearly 500 people took part in the annual Pink on the Dirt luncheon and fashion show on July 17.
Promotions leading up to the event advised: "Wear your boots, the dirt is deep!"
Every year, as part of Stampede for the Cure festivities, the luncheon raises funds to offset the cost of mammograms for women in the community. Hence, the pink.
Idaho consistently ranks last in the nation for rate of screenings in women over the age of 40, with only 59.5 percent receiving mammograms, according to the American Cancer Society. The Stampede activities aim to address the gap, since 2006, $750,000 has been raised by Stampede for the Cure, enough to fund about 2,500 mammograms.
"We need more women to get mammograms, and that's why Stampede for the Cure exists, so women know there are funds available out there if they're uninsured," said Dawn Callaham, a St. Luke's community health program coordinator who is on the committee for Stampede for the Cure.
"We don't want to see any barriers to women getting screenings."
That message echoed throughout the rodeo week in Nampa.
"St. Luke's has a presence every night as sponsors of the rodeo," Callaham said. "Wednesday night was Pink Night, so we had even more of a presence.
"Stampede for the Cure sells merchandise," she said, "and all the funds go toward raising funds for mammograms."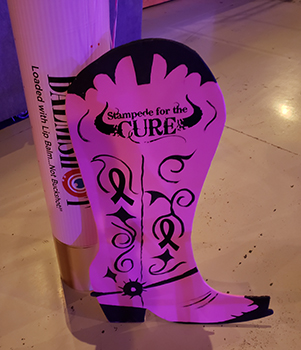 The event atmosphere was festive, but the fundraising was serious. A pair of pink boots raised $1,200 through a live auction, and additional money was raised through raffles and other promotions.
The luncheon featured rodeo queens, doctors, nurses and staff from St. Luke's and Saint Alphonsus hospitals.
Most importantly, it also featured breast cancer survivors.
Cindy Winkle and Sherry Bittner, both treated at St. Luke's, took the stage as part of the fashion show, modeling apparel provided by D&B Supply, with styling and makeup by the Paul Mitchell School. They were joined by two survivors who were treated at Saint Alphonsus.
"Wow, they're all amazing," said Callaham. "Sherry Bittner's story is amazing. Sherry is a triathlete, and she really is an inspiration to keep going and be as healthy and positive as you can be throughout treatment."