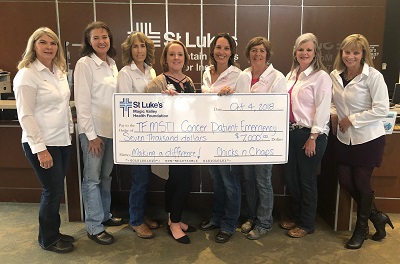 It's been 20 years since Nancy Huddleston was diagnosed with breast cancer, yet she continues to think about all the important milestones that have happened since she received the "all clear" years ago.
While the celebrations may have dwindled as the years have passed, Huddleston still feels a sense of accomplishment every day. Unfortunately, it doesn't always mean that she feels completely out of the woods.
"Even now, when I go to the doctor for my annual exam, my blood pressure is always high," Huddleston said. "I still get very anxious when I go to the doctor."
That's because when she was diagnosed with stage 2 breast cancer years ago, she felt "perfectly fine." After her sister was diagnosed with cancer the year before her own diagnosis, Huddleston was vigilant about doing self-exams. It's how she found a lump.
"I went to the doctor. A mammogram didn't show a lump," she said. "I could feel it, and the doctor could feel it. They did a site-specific mammogram, and it still didn't show anything. They did an ultrasound, which found it."
Huddleston had a biopsy, and in six weeks, she underwent multiple surgeries.
"It's really a good year gone out of your life to go through what I went through."
Now, she is an advocate to get others to schedule their breast cancer screenings. And if you don't think something is right within your body, Huddleston also wants you to know that it's important that you talk to your doctor as soon as possible.
Huddleston, 63, said one of the biggest takeaways from her battle with breast cancer is that if you catch it early, you'll increase your chance of survival.
This year, Huddleston was a participant in the Chicks n Chaps Women's Rodeo Clinic on Aug. 31 at the Magic Valley Stampede in Filer.
"A friend of mine went last year, and they said it was really fun," Huddleston said. "I took my daughter, and it was really fun. You learn about the sport of rodeo. Hopefully, I get to go again next year."
The event is in its second year. A donation of $7,000 was presented Oct. 5 to St. Luke's Mountain States Tumor Institute (MSTI) in Twin Falls for the cancer patient emergency fund, which is managed through the St. Luke's Magic Valley Health Foundation. This fund helps local cancer patients who receive care locally.
Chicks n Chaps is one of the countless donors that local cancer patients can thank for their support.
To date in 2018, close to $45,000 was utilized by patients at St. Luke's MSTI from the St. Luke's Magic Valley Health Foundation's cancer patient emergency fund. This fund helps with everything from gas cards to hotels to groceries. The amount of need continues to increase. In 2016, patients used $31,000 from this fund.