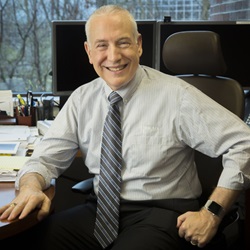 St. Luke's is on a journey to provide the best outcomes in the country at the lowest possible total costs of care. Transforming health care is incredibly challenging and requires a clear vision, alignment of internal and external stakeholders, bold goals, clear action plans for work that aligns with strategic objectives and is prioritized based on impact and risk, and a clear decision-making structure that can be nimble and responsive to a rapidly changing environment.
St. Luke's put in place just such a structure through our recent organization design initiative. Here to tell you more is today's guest blogger, Mary Cronin, St. Luke's Health System associate vice president, operations.
- David C. Pate, M.D., J.D.
---
Very few people, organizations or teams wake up in the morning energized to be average, yet most of us are.
I must admit that until I became a mother, the gap between the vision I had for my life and my actual life didn't differ considerably. Deciding to become a mother was easy. The reality of the change it required of me was harder than I expected. Very quickly, awash in a sea of bottles, laundry, binkies, toys and swings, I was overwhelmed.
I see parallels between my motherhood journey and our evolution at St. Luke's. Our strategy is clear: Improve outcomes and lower cost. How we do that is going to stretch us. Words don't lead to outcomes. Actions do.
When I started at St. Luke's in 2006, we were smaller. Decision-making was simpler. So was life for me at home. My biggest decision of the day? Chicken or steak for dinner.
Then we both grew. St. Luke's now has about 5,000 more employees than we did when I started, dozens more clinics, hundreds more patient beds – and fundamentally, we are a health system. In 2006, we were a hospital. My home life? Dinner plans are the least of my worries.
By 2018, it had become clear that our decision-making, performance management and prioritization processes were highly variable. We had lots of meetings – more than 2,600 of them – yet most work occurred in silos. Meetings focused almost exclusively on information-sharing and everything was "a priority," which created a lack of focus and competing priorities, misalignment of resources and ultimately, barriers that hampered our ability to be as effective a health-care partner to our communities that we could be. It was not uncommon for our executives to have calendars filled with meetings to discuss disconnected work driven by others.
In health care, we know that this is not uncommon. Many health systems are experiencing the same variability. We also know that with emerging competitors and economics, changing regulations and a rapidly evolving workforce, the ability to adjust how we lead will differentiate the dreamers from the achievers. And while many of these challenges are external, the ability to create organizational alignment is completely within our control.
I've been here before. Having 10-week premature twins was out of my control. What was within my control was the alignment required: hiring help, clarifying responsibilities with my husband, adjusting work schedules, learning to say no, prioritizing the long game over the short game, all to support our family's success. As a family, we pivoted.
St. Luke's is now pivoting from our old way of thinking and operating. There is a level of integration required for us to truly operate as a system so that we can be the best stewards of this organization and best community partner that we can be. That integration must provide role clarity, clear decision-making paths and the ability to prioritize across the organization.
To these ends, we embarked on an organization design transformation effort that included a restructure of our operational governance and new committee types.
System-level executive committees set systemwide strategy and make major investment decisions. The executive committees delegate responsibilities to management committees to drive performance management for finance, human resources, quality, technology and care redesign.
Committees within three distinct population health sectors support an integrated approach to population health outcomes and consistent implementation of key initiatives, and communities of practice enable best-practice adoption across the organization for clinical and operational functions.
At the same time, we understood the need to build formal processes. All operational governance committees would be chartered, and charter approval required system executive committee approval. Meetings would be intentional; preparation would be expected by members.
These processes, and the many others that we have been in the process of instituting, represent a significant shift toward a new way of operating for our organization. We are still refining our approach, and there is much work to be done.
'How' transformations require time, but we're beginning to see success. We are setting priorities and financial plans across the organization as a team. Committee time is focused on decision-making; decisions are documented and action items remain visible until addressed.
Fundamentally, and very importantly, we have a better understanding of how interrelated and complex we are, and we are working together to close gaps revealed by that understanding. Doing that is the right thing for our patients, the smart thing for outcomes and quality and the critical thing when it comes to the total costs of care, which we know are unsustainable.
Over my nearly 13 years with St. Luke's, I have witnessed the organization's evolution. My colleagues have been part of my journey as well – growing family, changing responsibilities, general life challenges. I believe the key to thriving during change is our adaptability and the ability to evolve. From that perspective, St. Luke's and the Cronin family are both on a good trajectory.