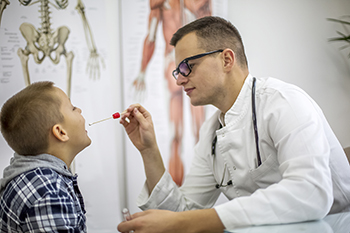 A new St. Luke's clinic offering immediate care is set to open next month in Mountain Home.
The Aug. 5 opening of St. Luke's Elmore Quick Care comes just in the nick of time.
St. Luke's has been preparing for months to accommodate the need for a local care option to treat minor illness and injuries. The need is more acute now that the Mountain Home Air Force Base's urgent care service is winding down.
The new walk-in clinic will meet the needs of the more than 26,000 people living in the area. Without the service, patients would need to seek medical services through the emergency department or drive to Boise for care.
"It will help reduce ED utilization for non-emergent issues and give our community a local place to be seen for minor illnesses and injuries," Trinity Mountain Medical Clinic, Mountain Home Senior Practice Manager Jaki Claunch said.
The clinic is ideal for minor illnesses such as ear infections, sore throats, fevers, coughs, respiratory illness, vomiting, diarrhea and urinary infection; minor injuries such as fractures, sprains and lacerations; minor work injuries; follow-up for suture removals or wound checks; and basic prevention, such as flu shots.
The clinic will be located on the St. Luke's Elmore campus in the Elmore Specialty Clinic near the main hospital.
St. Luke's Elmore County has looked to successful quick-care and urgent care clinics throughout the health system to model best practices.
"Preparation has included recruiting and training for staff and providers, meetings with our support departments in supply chain, pharmacy, lab and X-ray as well as meetings with our colleagues in urgent cares and walk-in clinics from Treasure Valley to Magic Valley," Claunch said.
St. Luke's will continue to recruit providers to increase access, expanding clinic days and hours to accommodate the need. Until then, a Nurse Practitioner, assisted by a Medical Assistant or Licensed Practical Nurse will be available to patients. When it opens, clinic hours will be Monday through Friday from 8 a.m. to 5 p.m., adjusted for certain holidays. Services are available with or without an appointment.
St. Luke's Quick Care is located at 840 North 4th East, Mountain Home, Idaho 83647.
For more information, call 208-587-1850.