Simulation practice helps improve safety, efficiency throughout St. Luke's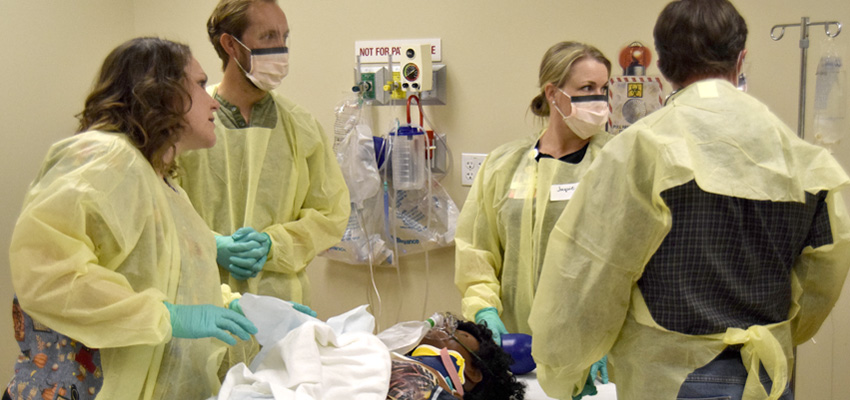 The team practices during pediatric trauma training.
By Chris Langrill, News and Community
Practice makes perfect, the old adage tells us.
In many ways, that adage is the driving force behind St. Luke's simulation program, but Tammye Erdmann said her team takes it a step further.
"Perfect practice makes perfect," Erdmann said.
"We intentionally design simulation experiences to help our teams find out what perfection is. We want them to practice over and over, so they can actually perform like a well-oiled machine."
Erdmann's team offers different types of simulation, some focused on a particular process and some making possible "day-in-the-life" practice. Last year, the team supported pediatric trauma training.
"We ended up doing 168 simulations in 28 days," Michaelyn Muggli, a clinical educator, recalled.
"Before the Nampa hospital opened, we had different scenarios to look for, including patient safety," she said. "Do the doors open in the right direction? Can the beds get through the doors?


"It's just a way to identify things that need to get fixed."
The simulation program began in 2007, but Erdmann said it really started to take off in 2010. In 2014, a program manager came on board, and the growth has been steady ever since.
"When the program started, we had two people, a simulator and a technician. Right now, we have a core simulation team that consists of 15 people," she said. "That's 15 people who are dedicated to simulation, but we've probably trained a couple hundred staff members over the past couple years to help with simulations across the health system."
Simulation work happens across the system, because being prepared for an emergency trauma patient or a complicated birth is key to what caregivers in all locations do every day.
To ensure their readiness, the St. Luke's McCall team recently received new state-of-the-art simulation equipment, made possible through funding from the McCall Memorial Hospital District (MMHD).
"The MMHD is pleased to help expand educational opportunities and improve clinical expertise for providers and staff in our rural health care setting," district Board Chairperson Andy Laidlaw said.
The new equipment includes an adult male, adult female and newborn simulators and manikins.
Practicing complex scenarios in clinical settings allows care teams to work through processes and situations without risk to patients. Gaps and issues identified can be corrected before an actual event occurs.
"It allows our staff to train and practice skills locally in a safe and controlled environment that prepares us for low-frequency, high-risk events," said Brenna Riggers, RN, a clinical educator.
"This new equipment provides an incredible opportunity for a hospital our size. We are so appreciative that the community continues to support our health care team."
Process simulations before St. Luke's Nampa Medical Center opened its doors and prior to the opening of a new, expanded emergency department and labor and delivery unit at St. Luke's Elmore Medical Center in Mountain Home illustrate just why the practice is so valuable.
"We identified, as a team, 147 critical failures," Erdmann said. "Critical failures are things that would affect patient outcomes, and we wouldn't have found those without simulations.
"We found those critical failures, and they were corrected. That greatly impacts patient safety."
Cathy Peterson, a clinical educator, has seen firsthand the kind of powerful impact the simulation program can have on patient safety.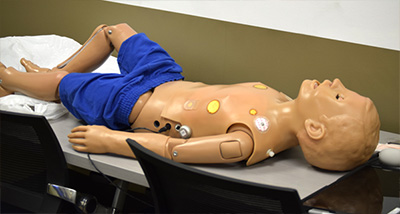 A manikin, ready for service in simulation training.
Cathy Peterson, a clinical educator, has seen firsthand the kind of powerful impact the simulation program can have on patient safety.
A few years ago, the Meridian Newborn Intensive Care Unit contacted the simulation program.
"They wanted to practice a worst-case scenario of a woman who comes into Labor and Delivery and comes into the triage room and she delivers a micro preemie, which had never happened at the time," Peterson recalled.
Peterson and her team put the Meridian staff through a simulation including NICU and labor and delivery nurses, respiratory therapists, a patient-actress playing the role of the mother and a fetus manikin.
"When the nurse was called from the NICU, she was given the same information that would normally be given," Peterson said. "She had to call and gather her resources, her team, her equipment and come to the room. And when they came to the room, they realized they had no equipment in the room to resuscitate the baby."
The simulations turned up other equipment and process opportunities as well.
"Two weeks later, we came back and simulated the situation again," Peterson said. "They did incredibly better. It was very successful."
That success led to an even more important one.
"Four months later, it really happened," Peterson said. "A woman that was 27 weeks pregnant came in during a night shift and precipitously delivered in the triage room.
"The nurses told us it was just like the simulation and they very much appreciated it," she said.
"That baby had a much better outcome than it would have had before the simulation.
"That's just one example of a real patient outcome that was affected."
Lexi Jensen, also a clinical educator, has been with the simulation team for about a year. She said it's been rewarding to see the impact the simulation program can have in a variety of settings.
"I came from being a bedside nurse in L&D, and that was my love and my passion, and I was so happy to be there," Jensen said. "But the cool thing about simulation is that we get to impact all these peoples' lives.
"You're not interacting with that one patient, but you're impacting a whole slew of patients to come," she said. "We can drive change."