Simulation Drills Help Rural Providers Prepare for Time Sensitive Emergencies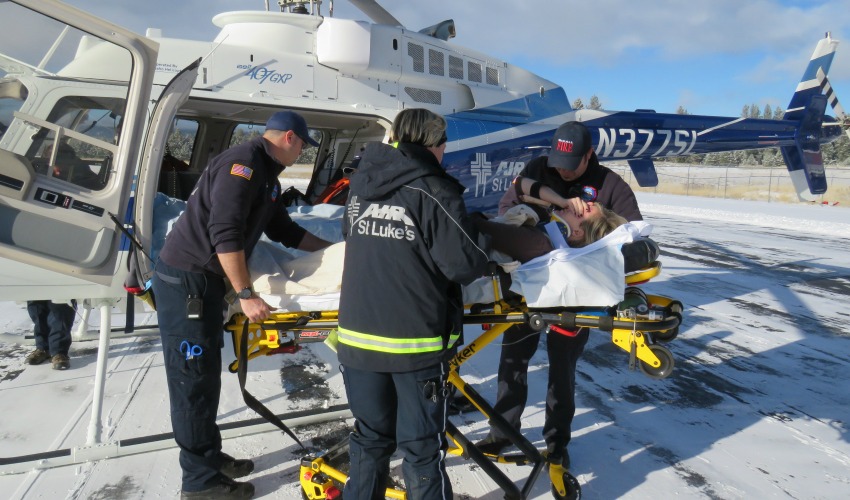 St. Luke's McCall and McCall EMS recently performed a real-time simulation exercise that began in McCall and ended at St. Luke's Boise and utilized Air St. Luke's for transport.
By Laura Crawford, News and Community
When someone suffers a heart attack or trauma, time is of the essence. Quick assessment and treatment are required to give patients the best chance of survival.
To meet this challenge, the emergency department clinical team at St. Luke's McCall regularly trains in order to provide better care for patients experiencing time-sensitive emergencies, such as stroke, heart attack and trauma. Collaboration with first responders such as Air St. Luke's and the region's EMS paramedics and EMTs is a vital part of that training, because multiple agencies often respond to time-sensitive emergency calls.
St. Luke's McCall and McCall EMS recently had the opportunity to collaborate with the Idaho Simulation Network (ISN) through the Idaho Time Sensitive Emergency System to hold a real-time simulation exercise that began in McCall and ended at St. Luke's Boise.
In addition to St. Luke's McCall and St. Luke's Boise, the simulation drill also included participation with Air St. Luke's, Valley County Dispatch and McCall EMS.
As part of the drill, Air St. Luke's Clinical Manager Casi Myers played the role of a mother who crashed her car at the McCall Post office. Her crash was caused by one of the deadliest forms of a heart attack, known as a STEMI (ST-elevation myocardial infarction), which occurs when one of the heart's major arteries is blocked.
The drill had an additional challenge because a 5-year old child was also involved in the accident. The child, represented in the drill by a high-tech simulation manikin, was ejected from the car and suffered abdominal trauma and a broken leg.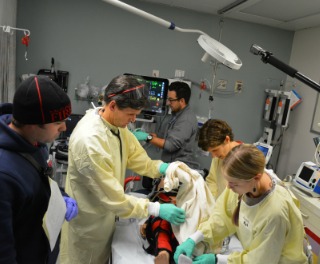 The simulation was played out from start to finish as if it was an actual medical emergency. It started with a call to 911, and then McCall EMS responded to the accident scene, assessed the patients and communicated with the hospital team, and then transported the patients to St. Luke's McCall.
"Good communication with EMS, who are at the scene of an accident, is critical for our ability to assemble our treatment team and mobilize transport for definitive care when necessary," said Kate Dealaman, St. Luke's McCall emergency services director.
"When time is critical, having as much information as possible and being prepared upon the patient's arrival can make all the difference," Dealaman said.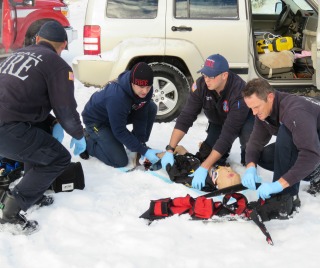 The emergency room team followed their step-by-step clinical protocol to diagnose, treat, and prepare the patients for transfer to Boise via Air St. Luke's.
Based on McCall EMS evaluation at the scene, emergency transport was ordered and the helicopter was dispatched to McCall.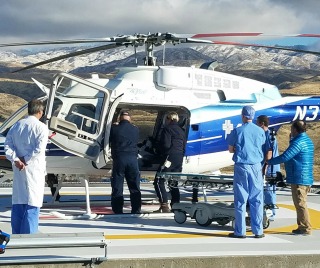 The mother was transported to St. Luke's Boise, where the cardiac team was waiting and prepared to get the patient to the catheterization lab to receive the necessary lifesaving treatment.
For rural medical centers like St. Luke's McCall, which require patients with time-sensitive emergencies be transferred to Boise, research indicates that 120 minutes or less is the magic number for what is referred to as "first medical contact-to-balloon time" The time starts when a call is made to 911 or a patient presents to the emergency department in a private vehicle and ends when a stent is inserted to open the blocked artery in a catheterization lab.
Living in a rural area where weather can be a factor, every minute counts in time sensitive emergencies. There was intermittent snow on the morning of the drill, making it even more realistic. The total time of the simulation drill was 127 minutes from first medical contact to the Boise catheterization lab.
"We are always looking to improve our response times in time-sensitive emergencies and felt fortunate to participate in this training. It serves as an opportunity to tap into the collective intelligence of the group as we work to improve communication, process, systems and logistics in an effort to trim time off of time-sensitive emergencies (i.e. stroke, STEMI and trauma)," said Dealaman.
About Idaho Simulation Network (ISN)
Idaho Simulation Network's purpose is to support healthcare teams in their efforts to create a safer healthcare system for the citizens of Idaho.
ISN collaborates to bring simulation initiatives to healthcare professionals and EMS personnel to improve the quality and reliability of EMS and hospital team performance through education and realistic practice.
The goal of this simulation-based team training is to provide EMS, hospital and air transport personnel with the opportunity to practice clinical and teamwork skills during team management of pediatric and adult time sensitive emergencies.