St. Luke's high-tech sports medicine helps active patients get back in the game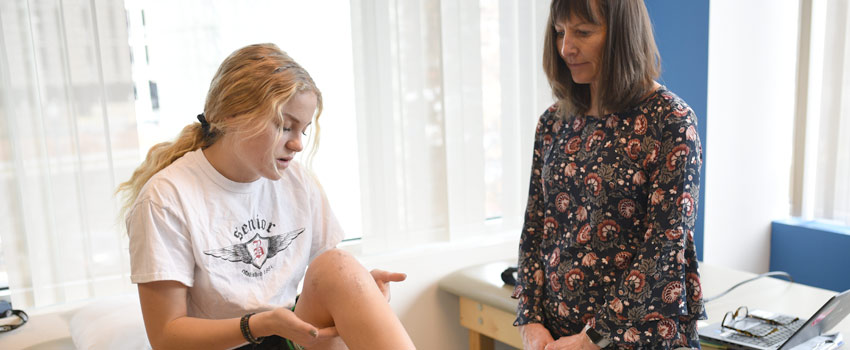 By Randall Post, News and Community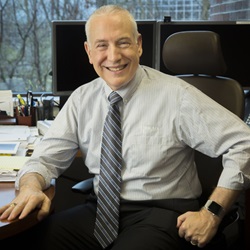 I have long been impressed with our sports medicine department. The dedicated professionals that make up this department are always innovating and finding new and better ways to help prevent injuries or help patients recover faster and better from their injuries.
We have had the AlterG, a treadmill that allows patients to run or walk at a fraction of their body weight by using air pressure, for some time now. Now, we have a new treatment option – blood flow restriction (BFR) training – that allows patients with injuries to recover and preserve muscle bulk and strength that is often lost during immobilization and recovery from an injury.
Here with a report about these treatments is Randall Post, content and communications coordinator for St. Luke's Health System.
- David C. Pate, M.D., J.D.
---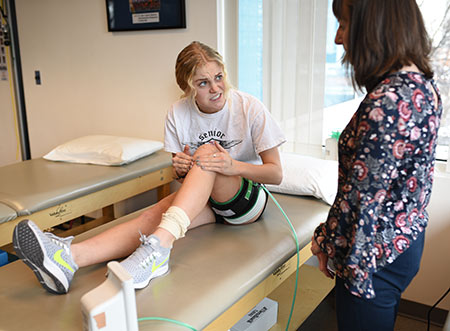 Grace Gaddis discusses her rehab with Physical Therapist Assistant Teri Pietz during blood flow restriction training at St. Luke's Clinic – Sports Medicine in Boise.
Boise High School student Grace Gaddis was playing in the girls soccer state tournament in 2016 when her knee gave out and she fell to the ground.
As she wrenched her kneecap back into place, the popping sound was so loud that a teammate heard it 10 yards away.
The next morning, Gaddis' knee was the size of a bowling ball. In dislocating her kneecap, she had torn her medial patellofemoral ligament – the ligament that connects the femur to the inside of the kneecap.
Surgery isn't always indicated for an injury like the one Gaddis suffered and her medical team wanted to her to try rehab first. Four months later, she was back on the soccer field.
But last September, she injured her knee again. This time it was a partial dislocation of the kneecap, not uncommon for those with Gaddis' type of injury.
She returned to physical therapy, where it was determined she'd be a good candidate for blood flow restriction (BFR) training with St. Luke's Sports Medicine.
An innovation in patient care, BFR utilizes a pneumatic tourniquet — something like a blood-pressure cuff — to restrict blood flow to an extremity.
This creates an anaerobic environment, one with less oxygen, so the patient can exercise at a low intensity or lift light weights while getting the same results as if he or she were exercising at a high intensity, or lifting "heavy."
For patients like Gaddis, it's a good way to build much-needed strength without overburdening an injured leg.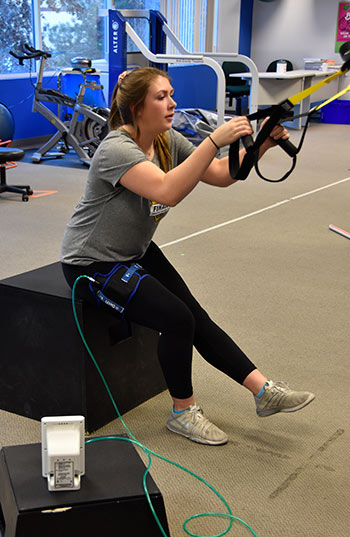 Knee injuries often lead to atrophy in an affected leg's quad muscle, said Teri Pietz, a St. Luke's physical therapist assistant. The strength imbalance between the uninjured leg and the injured leg creates an unhealthy compensation that makes it harder for a patient to heal properly and increases the risk of additional injury. Pain from an injury also makes it hard to lift heavy weights, further complicating recovery. BFR allows for the patient to exercise the quad pain-free without it atrophying.
"BFR has benefited patients who, especially post-surgery, can't lift a heavy enough load to build strength due to pain and tissue healing," said Heather Lopez, sports medicine program manager with St. Luke's Rehabilitation. "They can have the benefits of lifting without re-injuring themselves or compromising any tissue that has been repaired during surgery."
For Kenzie Kluksdal, rebuilding her right quad was a problem. The Boise High School student tore her ACL and the lateral and medial meniscus in her knee and also broke her femur playing soccer in 2017.
"When she was just recovering from her ACL surgery, she was at a different physical therapy place and, even as she recovered, her quad was always significantly smaller than the non-affected quad," Paula Kluksdal said about her daughter's legs. "And because of the pain in the knee, she just couldn't really load the weight heavily enough to actually ever really fully recover."
When she was finally cleared to play, the cartilage in her knee slowly deteriorated until it tore.
Kluksdal then started BFR training at St. Luke's. BFR has allowed her to gain muscle a lot quicker than she did with her ACL recovery – and to do it mostly pain-free.
"During surgery, they took out the top part of my patellar tendon and so lifting heavy weights gives me tendinitis in my knee," Kluksdal said. "With BFR, I'm able to do strength training without hurting my knee more."
BFR training is only one tool in the suite of services dedicated athletes can access through St. Luke's Sports Medicine program offered to rehab patients across the health system.
By day, Kaelyn Rogers is an occupational therapist at St. Luke's Rehab. By night, she is a world-traveling acro teacher. Acro is short for various forms of acrobatics: acro balance, acro dance, acroyoga, partner acrobatics, all activities that rely on counter-balance.
Life took a turn for Rogers in July when a bad landing tore four ligaments in her right ankle. After not being able to put any weight on her foot for two months, it was obvious she would require surgery.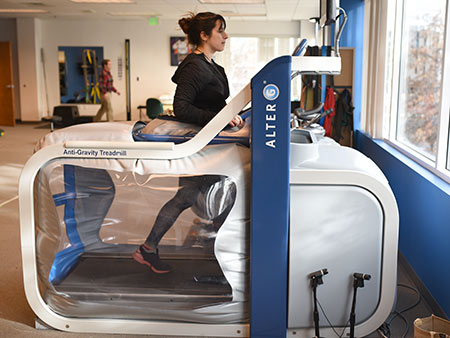 Kaelyn Rogers walks on the AlterG as part of her rehab from ankle surgery at St. Luke's Clinic – Sports Medicine.
Rehabbing with St. Luke's Sports Medicine, Rogers has used BFR training, but she's also found success by walking on the AlterG, a treadmill that allows patients to run or walk at a percentage of their bodyweight by utilizing air pressure.
Lopez says the AlterG is good therapy for runners who have suffered injuries and those who want to do longer distance or overspeed training while incurring less stress on their body than they would with regular workouts. It also benefits post-operative patients, like Rogers, who are working on gait mechanics.
"The AlterG and the BFR have been really great for rebuilding muscle and allowing me to be a little more active," Rogers said. "I'm starting to use less compensatory strategies, and I'm definitely still using the wrong muscles a lot of the time, so I'm making up for where I'm weak right now."
Programs for the public
You don't have to be recovering from an injury to utilize St. Luke's Sports Medicine performance programs, Heather Lopez said. The programs are open to the public and almost anyone can try them out. There are AlterG treadmills in Boise and Wood River, BFR training is available in McCall and the Treasure Valley and there are sports medicine clinics in Boise, Elmore, Magic Valley, McCall, Meridian and Wood River.
A running gait analysis looks at injury prevention and ways to solve for gait inefficiencies. It's $295 for an hour-long exam and a 45-minute follow-up.
An AlterG punch card is available for purchase. It's $10 for 30 minutes or 12 visits for $100.
Move2Perform screenings cost $69 and can identify someone who might be at risk for injury.
BFR training is available for $49 and a performance session, like a personal training session with a physical therapist trained in strength and conditioning, is $85 for one hour.
Call St. Luke's Rehabilitation in Boise at 208-385-3720 to set up an appointment.